Table of Contents
Snacking on a can lands you in a fix. Healthy snacks are easy to come by, but for keto, it means sticking to high-fat or protein-based snacks while avoiding carbs. Not the easiest combination for store-bought snacks. However, we have the perfect list of keto snack ideas. Try out delicious keto snack recipes and keto-friendly sweets. You can make your own brownies, cookies, or macaroons. For those rushing out, we list some of the top store-bought favorites.
What makes a great keto snack?
The best keto snacks have little to no carbs (1). Ideally, they should also be high in healthy fats and moderate in proteins.
This macronutrient balance is the basis of the ketogenic diet and is key to staying in nutritional ketosis. To keep on the keto track, it's best to have easy snacks on hand.
Here's our keto snacks list with over 30 healthy snack ideas:
Best quick bites and keto snack recipes
Cream cheese pancakes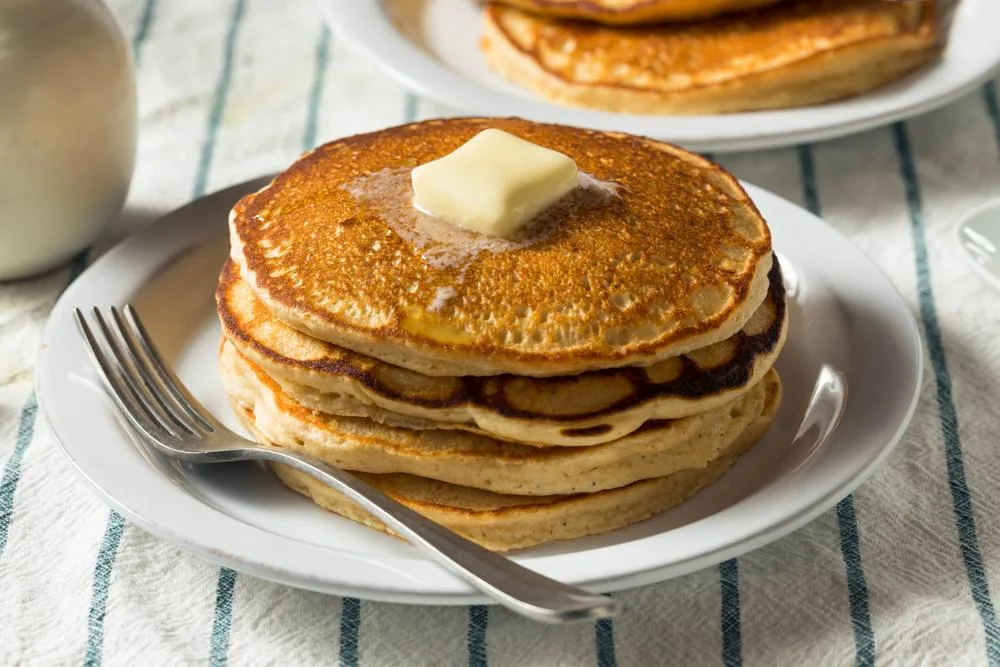 Cream cheese is comparatively low-carb. It's a good source of fat, vitamin A (10% of RDV in 2 Tablespoons), and B2 (Riboflavin 5% RDV in 2 tablespoons)—so quite suitable for keto (2). The bonus is the good bacteria content, lactobacillus, which contributes to better gut health (3).
Easy, delicious, and filling, this cream cheese pancake recipe is a must for keto dieters! It has just five ingredients and is a perfect sweet or savory snack.
With approximately 344 calories, these cream cheese pancakes have less than 3 grams of carbs with about 29 grams of fat.
Sardines
With zero carbs per tin, sardines are one of the best keto snacks (4). These small little fish are rich in omega-3 fats, minerals, and protein. Their taurine and arginine amino acid content is especially good for cardiovascular health (5).
Sardines, especially tinned ones, are popular, convenient, and versatile. You can eat them as they are or with cheese on keto crackers. They are also low in mercury (6).
Bacon and cheese bites
These fatty bite-sized treats make an amazing keto snack. They have less than one gram of carbs and make for a perfect savory treat.
With just a few ingredients and minimal work, you can enjoy this classic pairing of crispy bacon and gooey cheese. They take less than an hour to cook, and the protein and fat will keep you full until your next meal.
Satisfy your savory cravings with this bacon and cheese bites recipe!
Beef jerky
Beef jerky is an all-time favorite. It's both tasty and filling. However, it is difficult to find a commercial brand that is low in sugar and suitable for keto.
This sugar-free beef jerky recipe is the solution! All you need is a flank steak, seasoning and spice, and an oven to bake them for 3 hours at 225 °F. You can store these treats in the fridge for up to four days.
Each serving has only one gram of carbs.
Keto spam musubi
Spam Musubi is a Hawaiian-style sushi roll. To make it keto-friendly, you replace the rice with cauliflower for a low-carb alternative that's high in protein and fat.
Check out this 15-minute rice-free spam musubi recipe!
Caprese skewers
Caprese skewers are inspired by the classic Italian Caprese salad. It's a low-carb, healthy snack or light meal. You only need three nutritious ingredients:
Cherry tomatoes – lycopene protects against cancer and heart diseases (7).
Mozzarella cheese – contains probiotics important for gut health (8).
Basil leaves – abundant antioxidants to fight chronic disease (9).
Caprese skewers are extremely simple to prepare. You just need to alternate mozzarella cheese cubes, cherry tomatoes, and basil leaves onto a skewer. You can eat them immediately or sprinkle them with some olive oil for extra fat.
Keto charcuterie board
A charcuterie board is usually arranged with deli meats, cheeses, and berries. All pretty keto-friendly foods. It's the perfect combination of sweet and savory flavors and takes five minutes to prepare.
Of course, be sure to use low-carb keto crackers, unsweetened deli meat, nuts and seeds, and keto-friendly fruits. For these, it's still best to keep a carb count.
You can use this charcuterie board recipe as a guide.
Pickles
Pickles are traditionally made with low-carb ingredients like cucumbers, vinegar, water, and salt (10).
However, some store-bought pickles can have added sugars. It is usually safer to go with dill, garlic, and spicy pickles. The unique flavors of pickles will keep you interested and satisfied.
It is always better to make your own pickles at home. This simple pickle recipe only needs five low-carb ingredients.
Keto wraps, tortillas, chips and crackers
Keto cheese tacos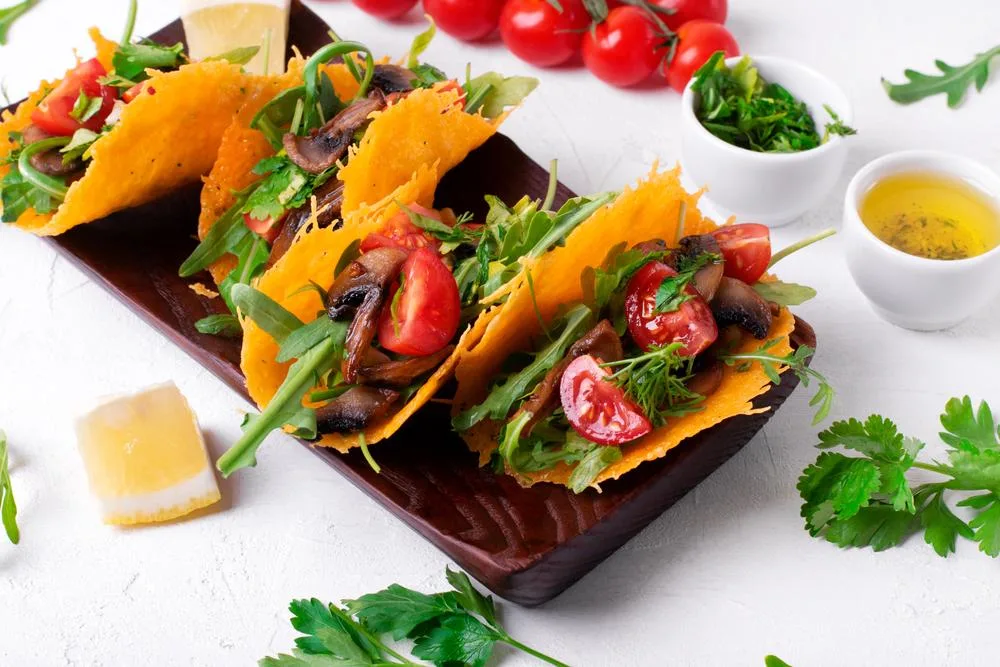 These crispy keto-friendly taco shells are made with cheddar cheese! —high in leucine, which may help in healing skin and bones (11, 12).
Take 1/2 cup of shredded cheddar cheese and spread evenly on a seven-inch plate. Microwave for 1 ½ minutes until the edges are golden brown. Take out to cool. Once pliable, fold into a U-shape with a tong and hold until the shape takes.
This recipe calls for cheddar cheese, but you can also try any low-carb shredded cheese. A good keto filling is ground beef with salsa and avocados.
These keto taco shells have only 1 gram of carbs and 20 grams of fat per serving!
Keto tortillas
The popular Mexican classic, tortillas, can also be made with less than a gram of net carbs per serving. They only take a few minutes to make and taste just like real corn tortillas. You can enjoy it as a quesadilla, enchiladas, or even a breakfast wrap!
This low-carb tortilla recipe needs three ingredients. If you want to spice it up a bit, you can always add seasoning or spice like garlic powder or cumin to the dry ingredients.
These keto tortillas are easy to make and store for up to five days in the fridge.
Keto friendly crackers
Crunchy chia seed keto crackers are low in carbs and super-healthy. Chia seeds, the main ingredient, are a so-called superfood. They can help lower bad cholesterol, prolong satiety, and improve digestion (13).
Ready in under 40 minutes, these chia seed crackers contain less than 2 grams of net carbs per five crackers. They are high in protein and fats, about 8.6 grams per serving.
You can use this chia seed cracker recipe.
Keto chips
Chips are addictive because they contain the primary craving ingredients of salt, sugar, and fat (14, 15). Fortunately, you can still have them on a keto diet! Low-carb keto chips come in the form of zucchini chips.
Making zucchini chips only requires four ingredients:
Zucchinis- the thinner the slice, the crispier the chips.
Olive oil – enough to thinly coat each slice.
Salt and pepper to taste.
Seasonings or spices.
After slicing the zucchini, pat them dry. Place the slices in a large mixing bowl and sprinkle with olive oil, salt, and pepper. Tip into a sheeted tray and bake for 90 min at 225 ℉. Once golden and crispy, remove from the oven, cool, and enjoy!
Try this crunchy snack whenever you have cravings for potato chips. You can also add spice or seasonings like cayenne pepper, red pepper, or grated parmesan cheese.
Keto fries
What is a snack list without French fries? These keto fries use seasoned zucchini. Zucchini is rich in lutein beta-carotene, zeaxanthin, and dehydroascorbic acid, which can help prevent tumor growth (16).
This perfectly formulated zucchini chip recipe uses almond flour, spices, and parmesan cheese. The chips are baked to perfect crispiness, and you can pair them with a low-carb and high-fat dip like ranch dressing.
Easy keto bread
In a keto diet, bread is an automatic no. But one of the most famous keto snacks is the keto bread. The most amazing part is you don't even need an oven.
So, if you are a bread lover but a keto dieter, this is one of your must-keep keto snack recipes. One serving of bread contains only 5 grams of net carbs but over 20 grams of fat.
Nature's best keto snack ideas
Keto trail mix
Originally developed as a snack for hikers, trail mix is loved by many. Although ingredients vary, they typically include nuts, seeds, and dried fruits. You can buy trail mix, but there can be extra ingredients, like popcorn, candy, and high-carb fruits.
However, you can make trail mix at home in under five minutes! Mixing different combinations is fun, but here's a suggestion for a delicious keto trail mix:
Combine 1/2 cup of each of the following ingredients:
Macadamia nuts – 76% fat and the fattiest among nuts (17).
Butter-toasted pecans – the second fattiest common nut (18).
Unsweetened coconut flakes – one gram of carbs per 6 g serving (19).
Keto chocolate chips – any sugar-free chocolate is good.
This trail mix only has 2 g net carbs with an overall fat content of 21 grams. It also boosts heart health with its rich monounsaturated fat content (20, 21).
Low carb berries
Fruits are naturally high in sugars (22). That is why keto dieters usually avoid fruit. Some fruits, however, like berries, can be enjoyed on a low-carb diet.
The best berries for keto are blackberries, raspberries, and strawberries. These contain 6 grams of net carbs per 100 g serving (23). Blueberries and cranberries contain a little more than 8 grams of carbs.
Eating these low-carb fruits is beneficial because they are high in antioxidants, vitamins, minerals, fiber, and phytochemicals (24).
Also, research suggests that up to 130 grams of fruits per day may prevent diabetes and reduce the risk of complications (25).
Eggs
Eggs are one of the best easy-to-cook keto snacks. They are low in carbs and a great source of healthy fats. According to the USDA, one medium-sized egg, about 44 grams, contains only 0.32 grams of net carbs and 4.20 grams of fat (26).
There is debate, however, about a link between diabetes and heart disease. On the other hand, eggs have anti-inflammatory, antioxidant, and anti-hypertensive effects (27).
You can increase fat content by adding butter, sour cream, cheese, or chili oil.
Best homemade keto sweets
Peanut butter cookies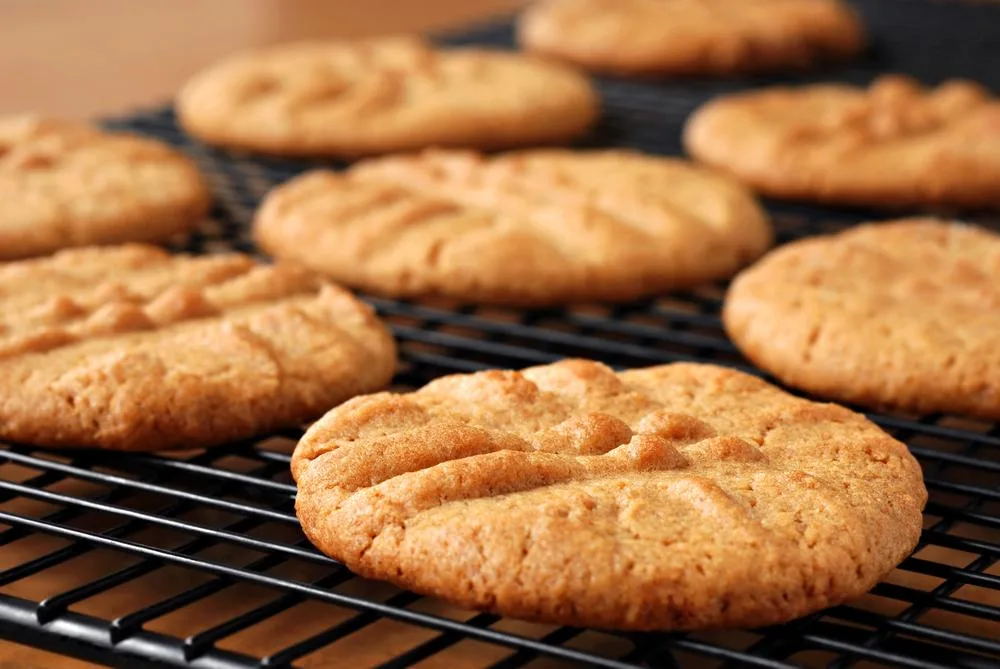 These soft and chewy keto peanut butter cookies only require three ingredients. They contain plenty of monounsaturated fats, plant proteins, and dietary fiber (28).
To make these cookies, you will need:
A cup of sugar-free peanut butter*
1 egg
1/2 cup sweetener
To start, preheat the oven to 350 ℉; then combine all ingredients in a large bowl and mix evenly. Form 12 cookie dough balls, place them on a sheet pan, and flatten them with a fork. Finally, bake for 10 minutes or until the edges are golden. Once they're done, let them cool completely.
This is a quick-and-easy snack that you can do in under 15 minutes! The best part is one cookie only contains 3 grams of carbs, 7 grams of fat, and about 80 calories.
*You can replace the peanut butter with any nut butter, such as almond butter.
Keto energy balls
Energy balls are delicious, healthy, and satiating snacks. Not only are they easy to make, but these keto energy balls can also have different flavors.
Feel free to experiment with add-ins such as chia seeds or unsweetened cocoa powder! You can also use nuts or mix in some sugar-free dark chocolate chips.
This energy ball recipe is sure to keep you satiated for a while.
Keto brownies
Who says you can't have a fudgy chocolate brownie on keto?
This top-rated keto brownie recipe lets you indulge guilt-free. You get 25 servings, each with just 0.7 grams of net carbs and over 4 grams of fat. Plus, they take less than 20 minutes to bake!
To make things easier, you can also try a premade keto brownie baking mix!
Flaxseed pudding
Unlike chia pudding which needs to stand overnight, flax seed pudding can be ready within 30 minutes. It takes only two simple ingredients —1 cup of ground flaxseed and 1 1/2 cups of unsweetened plant milk, like almond milk.
This is one of the healthiest keto snacks since flaxseeds are abundant in omega-3 fatty acids and alpha-linolenic acid (29). Plus, almond milk has prebiotic properties that can help regulate digestion (30).
To flavor things up, you can add in low-carb tasty bits. A natural sweetener like Stevia or a serving of berries topped with a trail mix goes well.
Keto cups
Keto cups are another popular keto snack. They are bite-sized and made with low-carb and high-fat ingredients. These mini cups can curb sugar cravings while providing a hefty amount of good fats and protein.
They come in different flavors, but the most common is nut butter. You can often buy them in a store, but they're easy to make at home with just three ingredients.
Follow this recipe for foolproof keto fat bombs made with almond butter, coconut oil, and your sweetener of choice. One mini cup has 1 gram of net carbs and 10 grams of fat.
Keto-friendly ice cream
This keto ice cream recipe is a nice treat for a low-carb diet plan. The bonus is you won't need an ice cream maker, and all it requires is three easy-to-get ingredients!
Try to experiment with dark cacao powder or berries for extra flavors!
Chocolate chip cookies
These cookies need almond flour, sugar-free chocolate chips, and 5 other pantry ingredients. You can have it crunchy on the outside and chewy on the inside cookies in under 20 minutes. The best part is one cookie contains less than 3 grams of net carbs!
Check out this keto-special chocolate chip cookie recipe!
Keto jello popsicle
Keto jello popsicles are perfect for a hot summer's day!
You will need two ingredients, and each sugar-free popsicle has less than 1.5 grams of carbs. These cold treats also come in a variety of flavors, including raspberry and lime. To add more flavor and fat, you can coat in a layer of sugar-free chocolate.
Add more fun to your summer with this jello popsicle recipe.
Chocolate almond clusters
Ready in under five minutes, these dark chocolate almond clusters are keto-approved. You can stay full of healthy monounsaturated fats found in almonds and satisfy sugar cravings with a coating of luscious dark chocolate.
You can switch things up by replacing almonds with any other nut or seed, like macadamia nuts or sunflower seeds. Using low-carb berries like blackberries is another option.
Cheesecake-stuffed strawberries
These hollowed-out strawberries stuffed with cream cheese are a fun-to-eat snack and only take 20 minutes to prepare. They are deliciously original and sure to impress.
For an added crunch or flavor, you can roll the strawberries in crushed nuts or unsweetened coconut flakes. This makes them quite versatile snacks.
Make them at home with this simple recipe!
Coconut macaroons
Made with desiccated coconut, egg whites, and sweetener, these golden macaroons are nutrient-rich. With coconut being the star ingredient, this snack is a good source of medium-chain triglycerides (MCTs) which support weight loss (31).
Also, this coconut macaroon recipe does not require any special equipment. Just three ingredients and 30 minutes later, you will have an entire week's worth of cookies!
Each macaroon packs 2.7 grams of fat and net carbs are only 0.6 grams.
Blueberry crumble bars
These chewy and gooey blueberry crumble bars have the perfect sweetness and berry tanginess. You will be addicted in just one bite!
Blueberries are extraordinarily rich in polyphenol antioxidants. These can help prevent chronic inflammation (32). Regular intake of blueberries is also shown to reduce the risk of death from heart disease (33).
This blueberry crumb recipe only requires five common ingredients. It takes around 40 minutes to have these fat-loaded blueberry crumb snacks ready to eat.
Delicious keto snacks from the store
UTZ Pork rinds
With zero carbs per serving, UTZ protein-packed pork rinds are a great keto snack. You can find them in original or BBQ flavors.
They can be purchased at many small or large outlets or online.
Quest protein chips
Quest protein chips are a popular low-carb snack. They include whey protein isolate, which can help you feel full for longer. Some popular flavors are nacho chips and ranch.
Quest protein chips are available from the brand's website or other retailers.
ChocZero keto hazelnut spread
If you are looking for an alternative to Nutella, ChocZero's milk chocolate hazelnut keto spread is an excellent choice. It is sweetened with monk fruit extract and contains only 2 grams of net carbs per serving.
This spread is perfect as a dip for fruits or even as an ingredient in keto cups. You can purchase it on the brand's website or from other retailers.
Perfect Keto cookie bites
These cookie bites come in a variety of classic flavors like chocolate chip, peanut butter, and snickerdoodle. perfect keto uses Erythritol and Stevia. Each cookie has 2 to 3 grams of net carbs per serving.
Keto granola bars
Unlike regular oat granola bars, these keto bars are made with low-carb and high-fat ingredients like nuts, seeds, and coconut flakes. However, like the traditional version, these are also highly nutritious and a great on-the-go snack.
Keto granola bars are available in grocery stores nationwide. The best-reviewed bars are Munk Pack, Atkins, Perfect Keto, and Keto Granola Bar.
You can also make granola bars yourself with this granola bar recipe. It uses flaxseed meals, chia, and pumpkin seeds—all suitable for the ketogenic diet. Each no-bake bar has a net carb count of less than 3 grams per serving!
Dark chocolate
Chocolate is usually a combination of fat, cocoa, and the keto-enemy, sugar. However, dark chocolate with at least 70% cocoa contains less sugar and carbs than other sweets. One serving or 28 grams of 70‒85% dark chocolate contains about 10 grams of net carbs (34).
Dark chocolate is rich in antioxidants, mostly flavonoids. These improve brain and heart health as well as mental well-being (35).
Roasted seaweed
Roasted seaweed is a natural fit for keto. One serving of about 14 grams of this delicate treat contains less than 1 gram of net carbs. Plus, seaweed is a great source of iodine, which is vital for thyroid health (36).
You can purchase this crispy snack in many places, especially at an Asian grocery.
Keto dips, sauces, and other extras
Plain Greek yogurt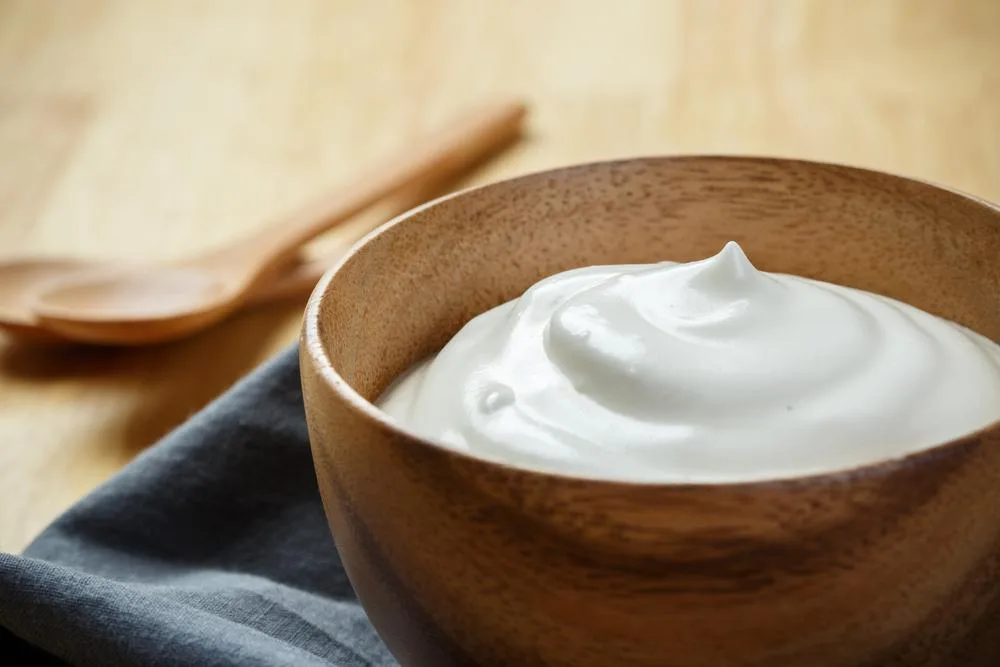 Greek yogurt is an excellent keto snack. You can easily pick it up at a local convenience or grocery store. It's also a good source of protein for those who struggle to meet their protein needs (37).
According to the USDA, 100 grams of plain full-fat Greek yogurt contains just under 4 grams of net carbs along with 5 grams of fat and 9 grams of protein (38)
Pesto paste
Pesto is naturally high in fats with many nourishing ingredients, like olive oil, garlic, and basil leaves. Plus, a standard 50-gram serving of authentic basil pesto contains less than 2 grams of carbs (39).
Perfect for keto chip dips or salads, most store-bought pesto sauces are suitable for keto. If you can't find a suitable brand, try this fresh basil pesto recipe.
Keto smoothie
Smoothies usually contain a lot of fruits and are not exactly low-carb. So, you may wonder how these smoothies are keto-friendly.
Well, this refreshing green smoothie is made with low-carb veggies paired with delicious healthy fats from avocado and peanut butter.
It's quick and easy to make! Just add all the ingredients to a blender and blend on high until thick and creamy. You can serve immediately or refrigerate in an airtight container for up to three days.
Cauliflower hummus
This cauliflower hummus is nutty with a creamy richness, just like the real one! You would never tell that this isn't made with carb-loaded chickpeas.
Cauliflower contains valuable nutrients and phytochemicals with cancer-preventive properties (40). Evidence also shows that the glycosylates in cauliflower play a key role in muscle and bone health (41).
By replacing chickpeas with roasted cauliflower, this hummus recipe is perfect for low-carb carrots, cucumber slices, or bell peppers.
A two-tablespoon serving only has 109 calories and 3 grams of net carbs with almost 10 grams of fat.
Guacamole
Guacamole is a great addition to the ketogenic diet. It's generally low in carbs and high in healthy fats. The main ingredient is avocado, which is also high in fiber. (42).
Store-bought guacamole may include added sugars or other high-carb ingredients, so check the label.
When making guacamole at home, you're free to portion control the ingredients and keep it keto-safe. The ingredients are fresh avocados, lime juice, diced tomatoes, minced garlic and onions, and chopped cilantro.
Keto lemonade
Perfect for the hot summer, this keto lemonade is a great alternative to sugary drinks. Plus, lemons are rich in citric acid and polyphenols, which help relieve fatigue and improve cholesterol (43).
To make 3-cup servings, you'll need to prepare:
1 cup cold water
1 cup hot water
3/4 cup powdered sweetener
1 cup lemon juice
First, mix the hot water and powdered sweetener until dissolved. You can use erythritol or allulose. Stir in lemon juice and add cold water. Let it cool, or add ice before serving. It's that simple, and each serving only contains 5 grams of net carbs.
Summary
For the perfect keto snack, you need tasty treats that are low in carbs, high in fat, and moderate in protein. There are many great keto dishes you can make at home in under 30 minutes. Low-carb snacking also includes wraps, tortillas, and crackers. For on-the-go snacking, try natural treats like trail mix, berries, or store-bought keto snacks. If you have a sweet tooth, then keto is also for you, with healthy low-sugar treats like peanut butter cookies, energy balls, brownies, and coconut macaroons.