Table of Contents
Pregnancy and appetite changes go hand in hand. Even if you just had a full meal, the chances are high; that you may crave something salty, sweet, or spicy. To follow a balanced diet, you should substitute some healthy ingredients that are tasty and nutritious.
So, don't kill your cravings! Instead, make them healthy with 15 healthy pregnancy snacks to satisfy you and your baby.
Let's have a look!
How to choose healthy snacks for pregnancy?
Pregnancy has three trimesters, and the first trimester has early discomforts such as fatigue and dizziness (1). Food aversions, morning sickness, nausea, heartburn, constipation, etc., are common in the first three months (2, 3, 4).
Therefore, you have to plan your healthy pregnancy snacks wisely. Also, you may eat less due to nausea, which leads to little weight loss (5). It's normal in the first trimester as long as it is not extreme.
Moreover, you generally do not need additional calories in the first trimester. The same calories as before pregnancy are sufficient to support the baby's growth (6). You may avoid eating too much in the morning to deal with nausea symptoms. Instead, have something citrus and light as a snack. The smell of citrus fruits may relieve nausea and vomiting (7).
Your goal should be a nutritious diet that helps you with your symptoms (8, 9).
The second trimester, the babymoon pregnancy period, is months 4 to 6. Also, the nausea symptoms will subside, and you will feel better (10). You will also notice weight gain, visible bumps, and baby movements (10).
At this stage, you need essential nutrients, vitamins, and minerals to support the development of the baby's organ systems. Therefore, you may need an additional 300 calories (11).
In the third trimester, your body prepares for birth and can have 450 plus extra calories (11). Your food must be very nutritious and healthy.
One important thing while planning pregnancy snacks is to consider your symptoms. For example, if you experience constipation, you can try eating high-fiber snacks (12).
Moreover, your diet should be according to your unique pregnancy metrics. Many factors, like weight before pregnancy, age, genetics, gestational diabetes, blood pressure, etc., play an important role.
So, discuss your diet and pregnancy snacks with the healthcare provider. A nutritious diet during pregnancy is important, and snack time is no different. Plus, healthy snacking helps you stay full for longer (13).
Some of the tips to plan your snack are:
For morning sickness, you should eat light for breakfast and have snacks later in the day. For example, citrus snacks.
For heartburn, don't have acidic snacks.
You should add lots of fiber-rich snacks if you have constipation.
For sugar cravings, use natural sugars and unprocessed food.
Also, if you have salt cravings, choose low-sodium options and try fresh umami food. Such as tomatoes and mushrooms.
15 best snacks for pregnancy
Here are the 15 best healthy pregnancy snacks: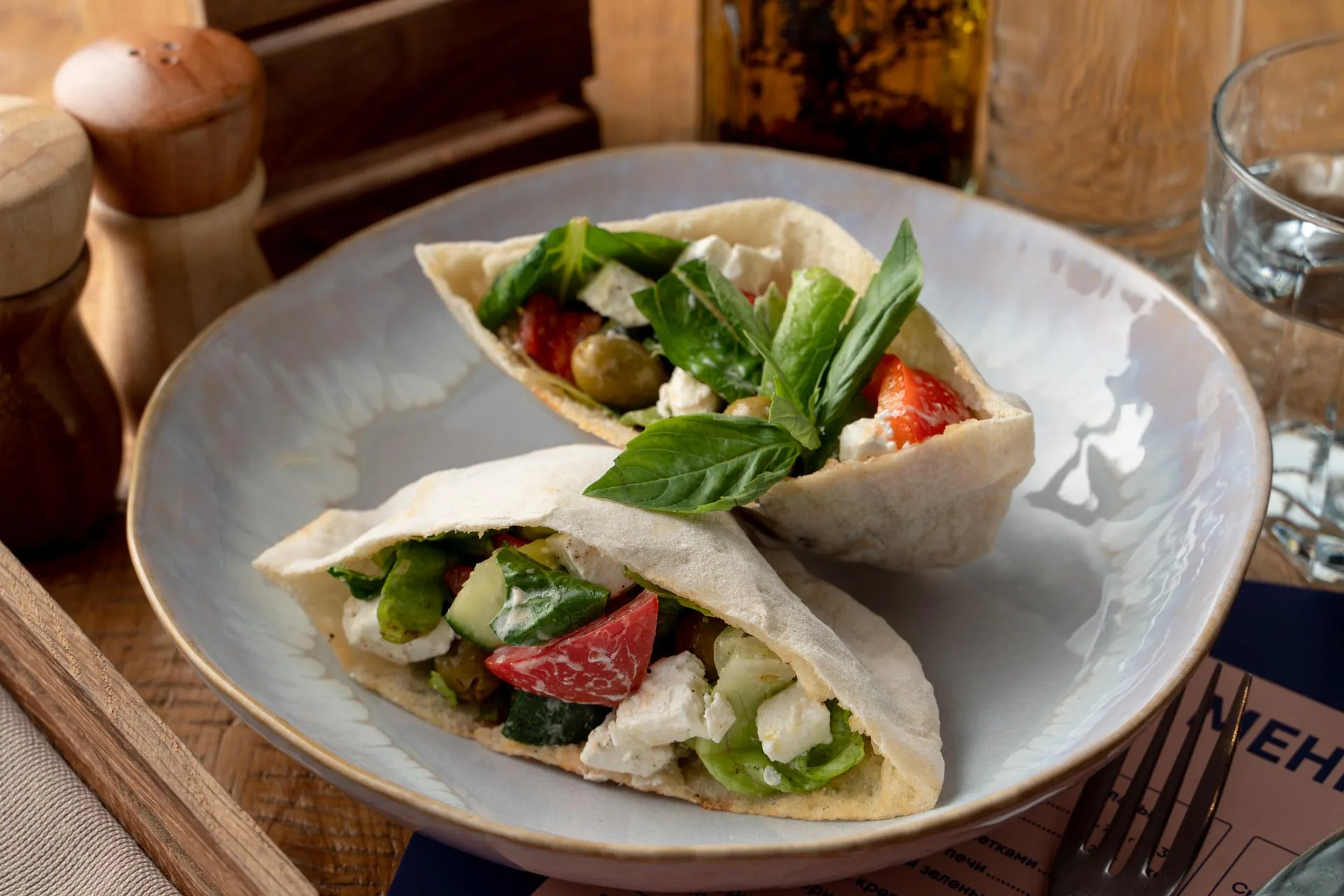 Hummus, raw veggies, and pita
Hummus and raw veggies may fulfill pregnancy protein and fiber needs (14).
You can prepare the traditional hummus with boiled chickpeas, sesame, olive oil, and garlic. Then, pair it with veggies like bell peppers, carrots, and pita bread.
It's a great snack for the second and third trimesters and boosts a healthy digestive system. Also, you can choose any vegetable or bread compatible with your symptoms and health.
Nutrition:
Calories: 357 Kcal
Carbs:54g
Protein:14g
Fat: 12g
Trail mix
A homemade customized trail mix is an on-the-go snack with all the essential nutrients. It has calcium, magnesium, healthy fats, etc., vital for a baby's bones (15),(16). Also, the rich, healthy fat inside satisfies hunger pangs as a midnight snack.
You can try 1/2 cup pumpkin seeds, 1/2 cup dried tart cherries, 1/2 cup raw almonds, and 1/2 cup dark chocolate chunks (makes 2 cups; 1/2 cup = 1 serving)
or
1/2 cup walnuts, 1/2 cup unsweetened coconut, 1/2 cup dried diced mango, and 1/2 cup cashews.
The addition of ingredients depends on your health. For example, if you are at high risk of high blood sugar, use the appropriate amount of fresh fruit instead of dried fruit. Also, these super good nuts are great for a baby's healthy development.
Nutrients:
A half cup of trail mix may usually have 300 calories. Other nutrient facts depend on the type and quantity of ingredients.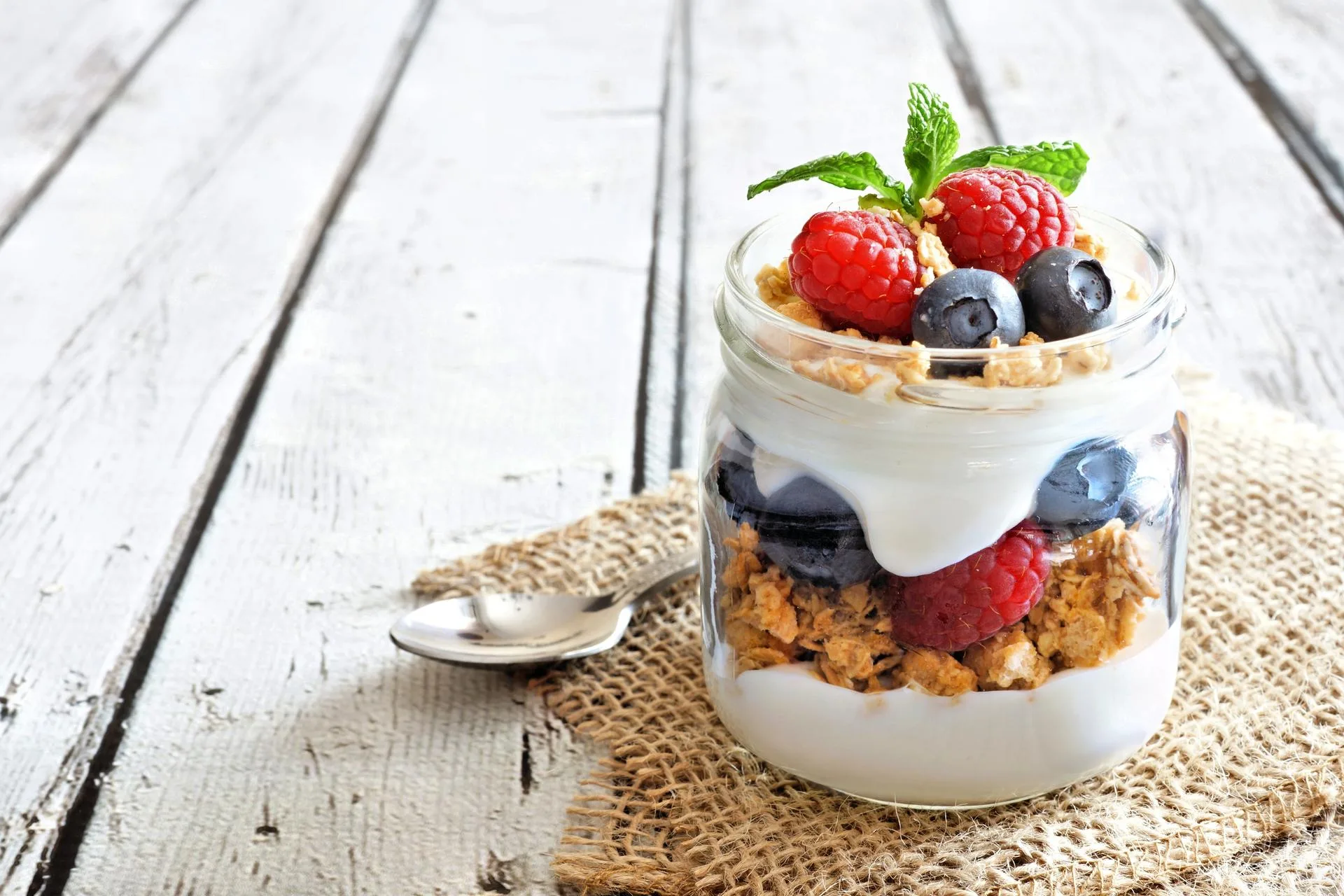 Greek yogurt parfait
Greek yogurt parfait is one of the best snack ideas. It's loaded with calcium and protein, which support a growing baby (17).
Also, Greek yogurt has probiotics that are beneficial for the gut (18). You can choose unsweetened plain yogurt, with or without low fat, according to your choice. Then, spruce it up with fresh berries, fruits, and granola bars.
Nutrients:
Calories: 298 kcal
Carbs: 28g
Protein: 21g
Fat: 11g
Apple slices and peanut butter
A fresh dose of fruits with healthy fats and proteins is advisable (19, 20). For example, an apple slice with unsweetened peanut butter is good for pregnant women who crave something sweet.
You can have it anytime. If you avoid apples, you can also have bananas and peanut butter. If you have to avoid peanut butter, you can also try almond butter due to allergies or other factors (21).
Nutrients:
Calories: 282.8 Kcal
Carbs: 31.4 g
Protein: 8.5g
Fat 16.4 g
Veggies or tortilla chips and guacamole
Many pregnant women experience swelling in their hands, feet, and ankles. Avoiding sodium-rich food may help you decrease it (22). Also, guacamole has potassium, which maintains the electrolytes in the body and may prevent swelling (23, 24).
You can have healthy tortilla chips or veggies to enjoy guacamole. To make guacamole, smash up a ripe avocado, and add salsa, a few drops of lime juice, and a drizzle of sea salt. Avocados have healthy fats, potassium, vitamin K, and folate, making them the best snack (25).
Nutrients( guacamole):
Calories:252 Kcal
Carbs: 3g
Protein: 16g
Fat: 22g
Sweet potato chips
Sweet potatoes may provide benefits to regulate blood pressure, especially the purple one (26). Also, It is loaded with potassium and magnesium, which helps in blood pressure management. Sweet potatoes can be easily made into chip form, and they are crunchy and very delicious.
Nutrients ( 10 chips):
Calories: 152 kcal
Carbs: 17g
Protein: 1g
Fat: 9g
Whole grain cereal
Whole grain cereal is not only a perfect breakfast but also a healthy snack option (27). To make a fantastic treat, choose cereals with complex carbohydrates and add low-fat milk and fresh fruits.
It should have the right dose of carbs, protein, and fiber. So, always choose healthy ingredients.
Nutrients:
Calories: 344 kcal
Carbohydrates: 50g
Protein: 11g
Fat: 13g
Chia pudding
Chia seeds are a superfood with fiber, iron, calcium, and Omega-3 fatty acids (28). All of these essential nutrients are required for carrying a healthy pregnancy. Plus, it's perfect to satisfy your sweet tooth cravings.
You can use coconut milk, unsweetened maple syrup, vanilla extract, and soaked chia seeds.
Nutrients:
Calories: 169 kcal
Carbs: 16g
Protein: 5g
Fat: 10g
Protein bars or homemade energy balls
You can store your favorite healthy protein bars. Also, you can make your own with healthy ingredients. Some things that can go in and with an appropriate amount are oatmeal, almond butter, dried fruit, peanut butter, honey, dark chocolate chips, and flaxseed. Then, roll them and refrigerate them.
These delicious ingredients and amazing protein content will make you full for longer (29).
Nutrients:
Calories: 210 kcal
Carbs: 21g
Protein: 6g
Fat: 12g
Avocado toast
As already mentioned, avocados are a delicious superfood. It has healthy fats, potassium, vitamin K, and folate, which support pregnancy (30). You can use whole grain toast with mashed half an avocado. You can squeeze lemon juice or add some tomatoes. Also, if you love something sweet, try almond butter, honey, etc.
Nutrients (plain avocado toast):
Calories: 200 Kcal
Carbs: 18g
Protein: 5g
Fat: 13g
Hard-boiled egg with whole-grain crackers
Hard-boiled eggs with whole-grain crackers are simple and make a great snack. A single serving(one egg) will fulfill 2 percent of your daily calcium, 6 percent of your daily vitamin A, and 6 grams of protein (31).
Calories: 108 Kcal
Carbs: 0g
Protein: 3g
Fat: 6g
Edamame
Luckily, edamame is available everywhere. They are nutritious and have great loads of vitamin C, which is best for the first trimester (32). To prepare it, you can toss a serving in the microwave.
Nutrients:
Calories: 120 Kcal
Carbs: 13g
Protein: 11g
Fat: 2.5g
Spiced Apples
Spiced apples are a great combo of sweet and spicy. You can sprinkle cinnamon and nutmeg powder and microwave them.
Nutrients:
Apple: 77 calories (medium)
Cinnamon: 3 calories (half teaspoon)
Nutmeg: 6 calories (half teaspoon)
English Muffin
You need vitamins D, A, and C to support a healthy pregnancy (33). The English muffin with egg has all of it (34). You can scramble an egg on an English toast muffin.
Nutrients:
Calories:300
Carbs: 17g
Protein: 17g
Fat: 16g
Cottage cheese with fresh fruit
The Cottage cheese has a good amount of calcium and protein (35). It's easy to make and very tasty. You can use cottage cheese and layer it with fresh fruits.
Nutrients:
Calories: 196 kcal
Carbs: 26g
Protein: 13g
Fat: 5g
Tips for snacking healthily during pregnancy
Here are some tips to satisfy your food cravings healthily:
Load your snack with all nutrients: To create satisfying snacks, consider sweet, salty, spicy, and other flavors. Feature these flavors individually or in combination. Also, consider all food groups, like whole grains, low-fat dairy products, complex carbs, healthy fats, proteins, etc., in your snack ideas
Stock the snacks: You can also make the snacks in a batch. But, always refrigerate them and consume them timely.
Count the snack calories: You need around an extra 300 to 500 calories in the second and third trimesters. But first, count the calories of snacks and follow the calorie count.
Things to avoid during snacking:
An egg is an important snacking ingredient that is healthy. But avoid undercooked eggs and meats or veggies (36).
Also, avoid saturated fats, which are unhealthy (37).
Opt for dark chocolate instead of regular chocolate.
Take your prenatal vitamins to fulfill all your nutrient needs (38).
You can also go gluten-free if you're allergic to certain diet products.
For a healthy and balanced diet, choose smaller meals while having breakfast, lunch, dinner, and snacks.
Avoid processed foods (39).
You should limit consuming deli meats and smoked fish (40).
Snacking is an important part of the pregnancy journey. It is important to make it healthy with smart choices. Also, take into account your calorie needs, vitamin deficiency, and other requirements. Therefore, discussing with your doctor and curating customized diet plans is important.
Your aim should be to add all the nutrients and have the best foods for pregnancy. Also, it would be best if you remembered that every pregnancy is unique. Therefore, you are able to assess all your factors before choosing the snacks.
Summary
These were healthy and very delicious snack ideas for pregnant women. You can have snacks one to three times according to your cravings. Also, substitute the ingredients to make healthy snacks.
Snacking helps you avoid large meals and may improve your digestive system during pregnancy. So, try and alter these ideas with some ingredients to spruce them up. You should have the required calories, nutrients, vitamins, and minerals. Conscious eating will help you support yourself and the baby. In addition, it will help you avoid extra weight gain and minimize the post-delivery effects.
So, check out all the snack ideas and seek expert advice for planning the best meals.