Table of Contents
Are you seeking a delicious and healthy chicken soup recipe to revitalize you? Look no further than our Ultimate Detox Southwest Chicken Soup! Packed with bold flavors and nutritious ingredients, this southwest chicken soup recipe is the perfect solution to your cravings for comfort food while supporting your wellness goals.
This soup is known for its characteristic mix of flavor and spiciness. While its origin is not entirely clear, it is believed to have developed due to the fusion of Mexican and American soup cuisine.
This Southwest Chicken Soup not only tastes great, but it also has a lot of healthy ingredients that will keep your body healthy and help your immune system. Every spoonful will leave you feeling satisfied and energized, from the lean protein in the chicken to the fiber-rich veggies and detoxifying spices.
Find out more about to support your body and mind.
In this article, we'll guide you through every step of creating a homemade version of this flavorful and satisfying soup, from selecting the freshest ingredients to preparing them easily. With our simple instructions and expert tips, you'll have a steaming bowl of Southwest-inspired goodness on the table in no time.
So, get ready to indulge your senses with the aroma and taste of this delicious soup while also enjoying its many health benefits. Let's get cooking!
Why has Southwest Chicken Soup a detox effect on the body?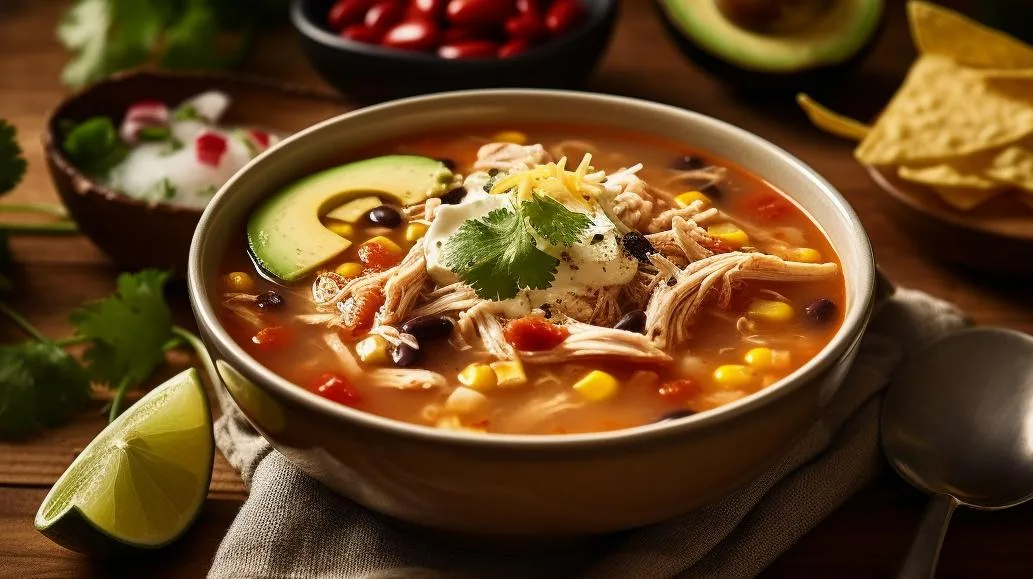 Chicken soup has long been recognized as a comfort food that can soothe the soul and provide nourishment during periods of illness. However, recent research has shown that chicken soup can also detoxify the body.
The Ultimate Detox Southwest Chicken Soup is a flavorful and healthy recipe packed with nutritious ingredients, including chicken, vegetables, and spices. It has a range of vitamins and minerals that can help to support the body's natural detoxification processes.
One of the key ingredients in this soup is chicken, a rich protein source. Protein is essential for maintaining and repairing the body's tissues, including the liver, the primary organ responsible for detoxifying the body. The amino acids in the protein help support the liver's detoxification pathways, ensuring that harmful toxins are eliminated from the body efficiently.
The soup also contains a range of vegetables, including onions, garlic, and jalapeno peppers. These vegetables are rich in antioxidants, which help to offset harmful free radicals in the body. Free radicals are molecules that can do damage to cells and tissues, leading to inflammation and chronic disease. By consuming a diet rich in antioxidants, such as that provided by this soup, individuals can help to lower the risk of chronic diseases such as cancer, heart disease, and diabetes.
Additionally, the spices used in the chicken soup recipe, such as cumin and chili powder, have been shown to have anti-inflammatory properties. Inflammation is a natural response to infection on injury. Still, chronic inflammation can lead to various health problems, including autoimmune disorders and heart disease. By consuming anti-inflammatory spices, individuals can help to reduce inflammation in the body, promoting overall health and well-being.
The Ultimate Detox Southwest Chicken Soup can help detoxify the body by providing a range of nutrients and antioxidants that support the body's natural detoxification processes.
Key healthy ingredients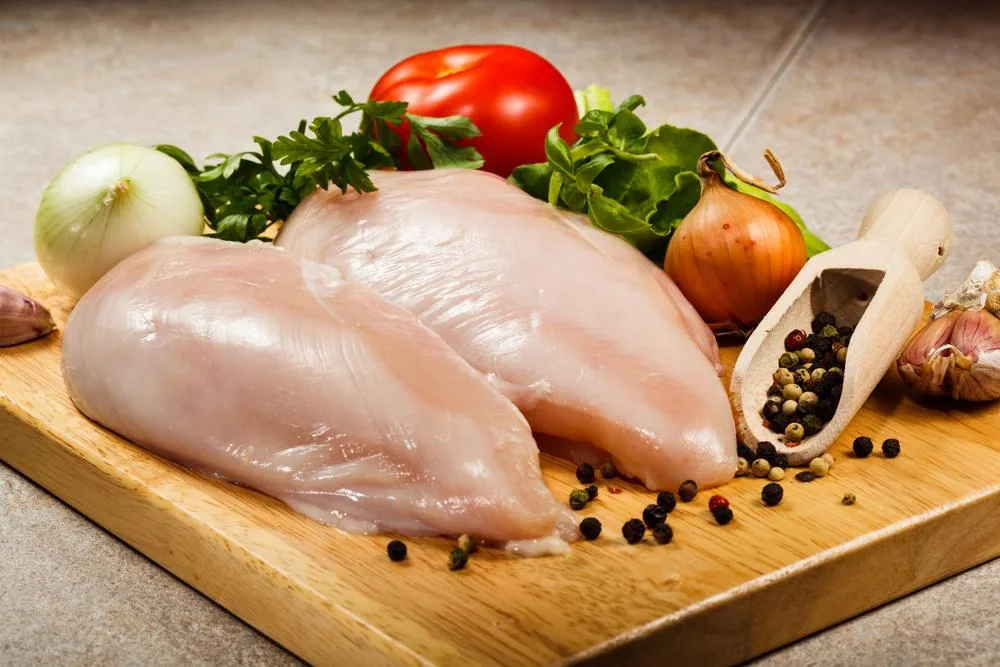 Chicken breasts are one of the essential ingredients in this easy recipe. They are a perfect source of protein, which is essential for building and repairing muscles. Chicken also contains vitamins and minerals, such as niacin and selenium, which help to boost your immune system and promote overall health.
Olive oil is another ingredient that makes this soup healthy and delicious. Olive oil is abundant in healthy fats, essential for brain health, cardiovascular health, and overall well-being. It also contains antioxidants, which protect your cells from free radical damage.
Pasilla peppers and jalapeno peppers are also key ingredients in this soup. They contain capsaicin, which gives them their spicy flavor and has been shown to have anti-inflammatory properties. Capsaicin has also been linked to improved digestion, weight loss, and reduced risk of certain types of cancer.
Turmeric is another ingredient that makes this soup healthy and delicious. It is a spice that has been used in traditional medicine for generations to cure a number of diseases. Curcumin, which is found in turmeric, has been demonstrated to have anti-inflammatory, antioxidant, and anticancer properties.
Other healthy ingredients in this soup include carrots, cabbage, broccoli, and avocado. Carrots have a lot of vitamin A, which is vital for healthy eyes and skin. Cabbage and broccoli are both excellent fiber sources, essential for healthy digestion. Avocado contains a high amount of healthy fats, fiber, vitamins, and minerals, such as potassium and vitamin E.
How to make Ultimate Detox Southwest Chicken Soup
Ultimate Detox Southwest Chicken Soup is easy to prepare with our simple recipe:
Prep Time: 20 min
Cooking Time: 30 min
Total Time: 50 min
Makes 5 servings
Ingredients
1 Pound Boneless skinless chicken breasts (or, as an alternative, use rotisserie chicken)
1/2 Large Onion, peeled and chopped brunoise
2 Cloves Garlic, minced
1 tbsp. Olive oil
1 cup Fresh green Pasilla peppers (or an alternative, use similar green peppers such as Shishito peppers. We used Anaheim peppers)
10 oz. Canned crushed tomatoes or fresh diced tomatoes (or tomato sauce if preferred without chunks)
2.5 qt. Chicken broth
1/2 tbsp. Ground cumin
1 tsp. Crushed red pepper
1 Large Deseeded and chopped Jalapeno pepper
1/3 tsp. Turmeric
1.5 cups Sliced carrots
2.5 cups Chopped cabbage
2 cups Small broccoli florets
1 Large Avocado peeled and diced (can use 2 if you like more avocado)
Salt and black pepper to taste
Tortilla chips
Directions
Sprinkle salt and fresh ground pepper on both sides of the chicken breasts.
Heat a large 6-8 quart pot over medium heat. Once the pot is hot, add the olive oil and immediately sear chicken on both sides for 1 and half minutes.
Once the chicken is seared, remove it from the pot and set it aside.
Skip steps 1-3 if you are using rotisserie chicken.
Add chopped onions and garlic, and sauté for 5-6 minutes to soften.
Return the seared chicken breast to the pot, followed by the green peppers, smashed tomatoes, chicken broth, all of the spices, carrots, and 1 teaspoon of sea salt.
Bring to a boil, decrease the heat, and let the chicken breasts cook for 20 minutes or more. Then, use tongs to take the chicken out and cool it on a cutting board.
Add the cabbage and broccoli that have been cut up to the pot. Keep letting the broccoli simmer to soften it.
Once the broccoli is soft, flavor it and add salt and pepper to taste. Serve hot with a lot of chopped avocado on top and tortilla chips as a side dish.
In the meantime, use two forks to shred the chicken breasts and add them back to the soup.
How to Serve Ultimate Detox Southwest Chicken Soup
Southwest chicken soup is easy to make and can be served in various ways. One way to serve it is to top it with shredded cheese, sour cream, and freshly chopped cilantro. Another way to serve it is to add a dollop of guacamole or salsa on top. You can also garnish with fresh chopped green onions or diced tomatoes.
You can also serve this soup with tortilla chips or warm cornbread. It's ideal for a cold evening or a relaxing Sunday afternoon.
Can it be made in the instant pot?
Yes, southwest chicken soup can be made in the Instant Pot. To make it, simply sauté the chicken and vegetables in the Instant Pot on the sauté setting. Then add the chicken broth, spices, and black beans and cook on high pressure for 10 minutes. Let the pressure go down on its own for 10 minutes before letting out the rest of the pressure.
Variations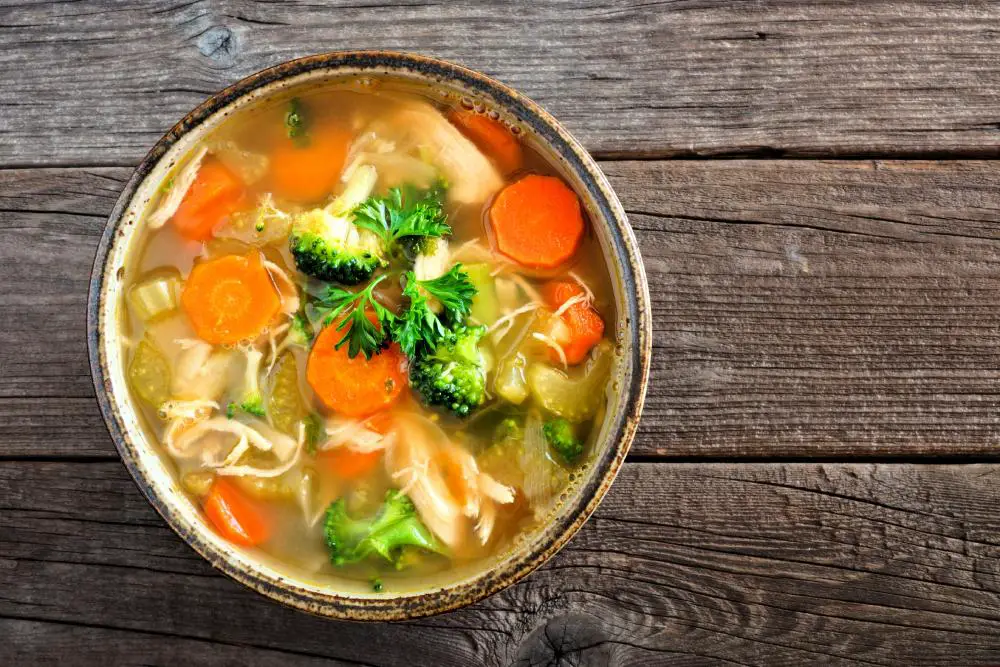 You can make several variations of this chicken soup to suit your tastes. For example, add more jalapeno peppers, cayenne pepper, or chili powder if you prefer a spicier soup. If you prefer a lighter soup, you can omit the peppers altogether.
Add other vegetables, like sweet potatoes, diced tomatoes, and zucchini, to this soup. Or, you can add white beans or choose different types of beans, such as kidney or black beans.
You can also use leftover chicken, chicken thighs, or rotisserie chicken from the grocery shop to prepare the chicken soup, as these are perfect substitutions for the chicken breast.
Add sour cream and shredded cheese for serving.
Helpful tips
When making this southwest chicken soup, there are some helpful tips to keep in mind.
Chop your vegetables into small pieces that are easy to eat. This will help them cook evenly.
Season the chicken with salt and pepper before adding it to the soup.
Be sure to use low-sodium chicken broth to keep the sodium content of the soup low. Fourth, let the soup cool for a few minutes before serving to prevent burning your mouth.
Storing, freezing, and reheating
If you have leftovers, store this soup in the refrigerator in a sealed container for up to 4 days. To reheat, microwave the soup in a microwave-safe bowl or heat it on the stove over low heat until heated.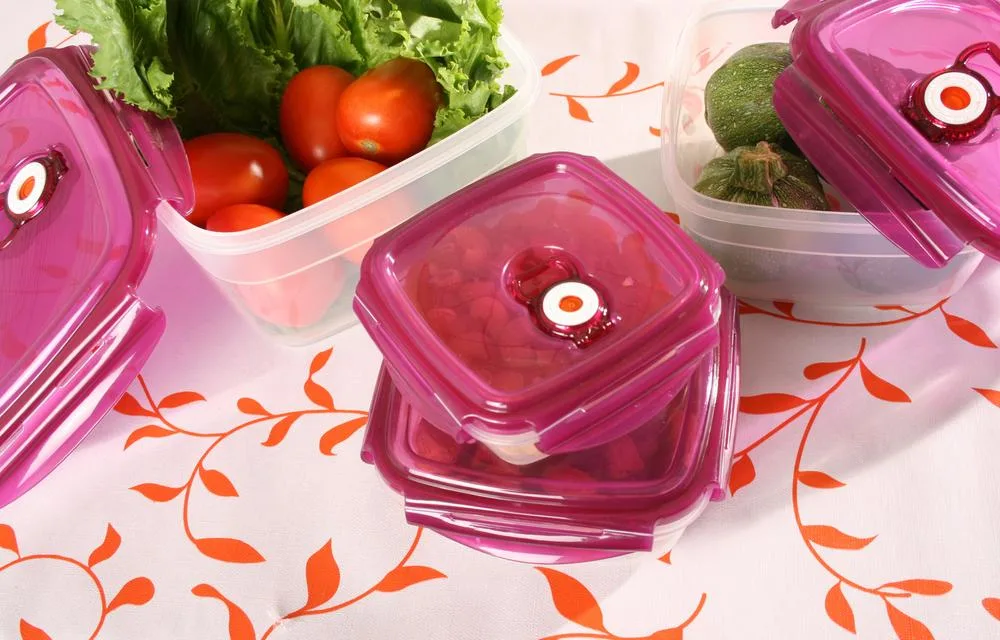 If you want to freeze this soup, let it cool completely before putting it in a freezer-safe container. You can store the soup in an airtight container in the freezer for up to 3 months. To reheat, simply thaw the soup in the refrigerator overnight. Reheat it the next day on the stove or microwave.
Is Southwest chicken soup suitable for a gluten-free diet?
Yes, this soup is gluten-free. Just be sure to check the labels of canned ingredients, such as black beans or chicken broth, to ensure they are also gluten-free. Can I swap chicken thighs instead of chicken breasts?
Can I swap chicken thighs instead of chicken breasts?
Yes, you can do so. Just make sure to adjust the cooking time accordingly.
Can I make this soup in a slow cooker?
Yes, you can make this soup in a slow cooker. Simply add all the ingredients to the slow cooker and simmer on low for 6-8 hours or high for 3-4 hours.
What brings out the flavor of chicken soup?
The key to bringing out the flavor in chicken soup is using a combination of aromatic vegetables, herbs, and spices, such as onion, garlic, bay leaves, thyme, and black pepper.
What is the secret behind chicken soup's medical magic?
Chicken soup's medical magic is attributed to a combination of factors, including the anti-inflammatory properties of the chicken and vegetables, the hydration provided by the chicken broth, and the ability of the soup to boost the immune system.
Why is chicken soup anti-inflammatory?
Chicken soup contains anti-inflammatory compounds such as carnosine, which is found in chicken meat, and polyphenols, which are found in vegetables such as onions and garlic. These compounds help to lessen inflammation in the body.
Should you brown the chicken before making soup?
Browning chicken before making chicken soup is unnecessary, but it can add flavor to the soup. If you have the time, you can brown the chicken in a separate pan before adding it to the soup.
Summary
Congratulations! You've just created your own Ultimate Detox Southwest Chicken Soup batch! We hope you enjoyed the cooking process and that the result exceeded your expectations.
Southwest Chicken Soup is very delicious and loaded with nutrients and health benefits. It is a perfect recipe choice for anyone looking for a great soup to nourish their body while indulging in a hearty and flavorful meal.
Don't be afraid to experiment with the dish by substituting your favorite vegetables or adding your own unique spin. After all, cooking is about creativity and personalization, so have fun!
We love Southwest Chicken Soup and received lots of positive feedback from our friends and family. We hope that you'll have a similar experience. We welcome your feedback and experiences in the comments area or on social media so that we may continue to develop and evolve our recipes.
And while you're here, why not check out some of our other articles and recipes for more inspiration? We're always adding new and exciting content, so follow us on social media for updates.
Thanks for joining us on this culinary adventure, and we wish you a lot of success cooking endeavors. Happy cooking!