Table of Contents
Losing weight takes time. There are also many factors that can either speed up or slow down your weight-loss journey. These can be correct food choices, lifestyle changes, and exercise routines—or the lack thereof. Regardless of what your weight-loss plan is, one thing that will get you to your goal is weight-loss motivation.
If you wish to lose weight but don't know where to start, check out our for advice.
There's much more to motivation than meets the eye, and our 12 holistic weight-loss motivation tips go beyond pop psychology. Start today by implementing these simple and effective researched hacks and stay motivated to lose weight.
Food, dopamine, and weight loss
There is a scientific basis for weight-loss motivation, and it's hinged on the brain's reward system (1). Dopamine, the so-called 'pleasure hormone,' plays an important role in triggering the motivation needed to reach your goals (2, 3). If your dopamine levels are not healthy, this can result in things such as loss of motivation, tiredness, and mood swings.
These, and other foods rich in tyrosine amino acids, can improve dopamine levels (4):
Fresh fruits: Apples, bananas, oranges, watermelon, tomatoes and avocados.
Veggies to cook: Leafy greens, beets and peas.
Motivational snacks: Almonds, pumpkin seeds, and dark chocolate.
Other mood enhancers: Green tea, lima beans, oatmeal, sesame seeds, wheat germ, and chicken.
12 ways to stay motivated and lose weight
A journey is not exactly a short trip around the block, and a weight-loss journey is no exception. What's more, the journey ought to be half the fun. In order to stay motivated to lose weight, here are 12 strategies you can implement. First, pick the ones that resonate with you the most and work with them one at a time.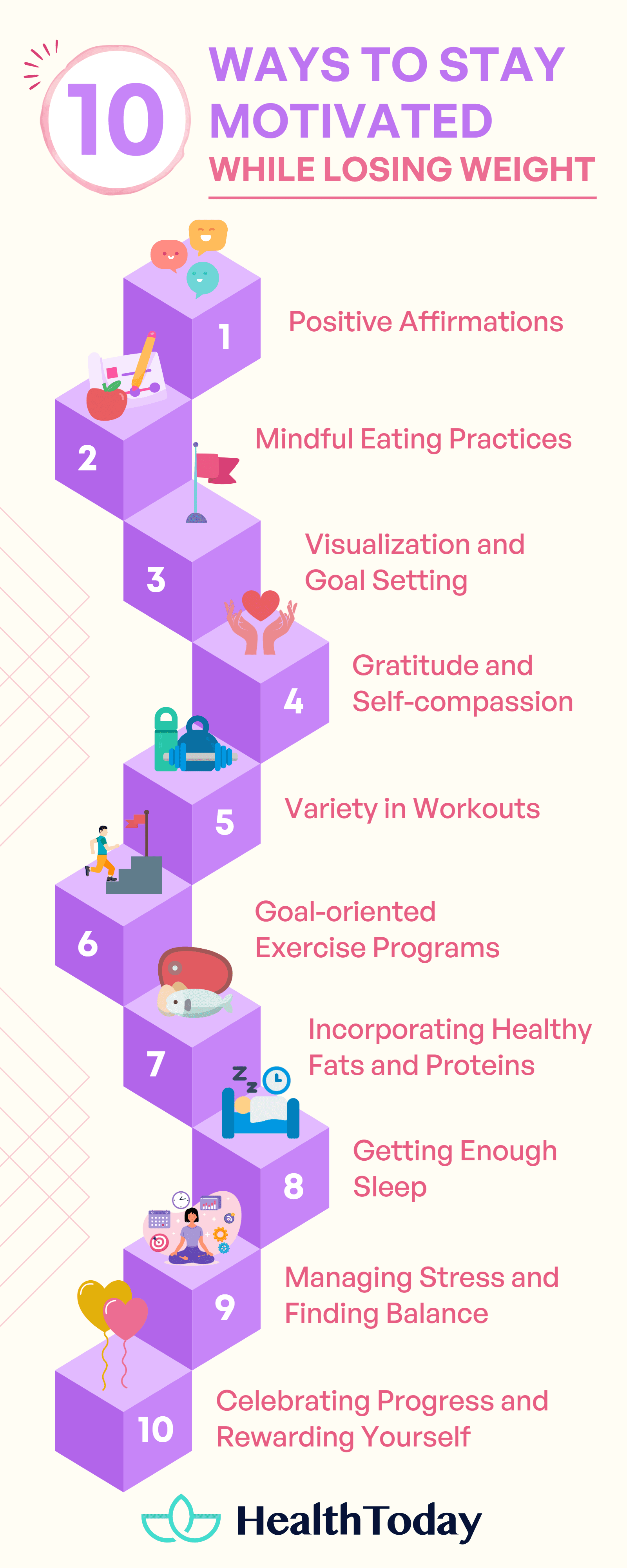 1. Positive affirmations
Positive affirmations are a type of positive self-talk meant to keep you motivated and focused on your weight-loss goals. Affirmations can help you lose weight by shaping your subconscious over time (5).
Positive affirmations can be applied to any endeavor, but you should be specific about what you want to reinforce.
"I will lose 2 pounds this week—it's no big deal!"
"I am losing weight daily—today, I will lose more!"
"I will reach my weight-loss goal—one step at a time!"
"I am losing 30 pounds—pound by pound!"
It's good to write your affirmations on sticky notes where you can glimpse them occasionally. Make sure they are easy to memorize, and consciously say them out loud during the day, especially at the start of each day.
2. Goal setting
Goal setting is important to stay motivated to lose weight. As long as your goal is practically achievable, positive expectations can lead to positive outcomes (6).
To do this, you need to clearly identify your specific weight-loss goals, how you will achieve them, and the specific time frame.
You can use the SMART (goal) model in conjunction with a vision board. SMART goals are Specific, Measurable, Achievable, Realistic, and Time-bound.
3. Positive body image
Although the slimmer future you are different from the current you, don't make negative judgments and comparisons. Body positivity about how you look now in your transformation process will only add to your weight-loss motivation (7).
In one study, researchers observed that people who were disgusted by their appearance were less likely to lose weight (8). Furthermore, staying positive and motivated is more likely to lead to the weight-loss results you desire (9).
4. Mindful eating practices
Mindful eating is best described as eating attentively. It entails chewing slowly with attentive detail to the texture, taste, and aroma of the food. Attentive eating also means no smartphones or TV during meals, except on rare occasions.
Mindful eating, for one, allows your body to pick up on hunger and fullness cues. Moreover, it can help you develop better awareness about food choices, relieve symptoms of anxiety related to food, and promote better self-care (10, 11, 12).
5. Goal-oriented exercise programs
SMART goal setting can also be applied to your weight-loss exercise routine. Make sure your exercise goals are realistic and achievable within the timeline you set.
One way to feel confident that you are achieving tangible results is to use a calorie burn calculator for your exercise routines.
The best workouts for weight loss are HIIT or high-intensity interval training, weight resistance training, aerobics, and Pilates (13, 14, 15, 16).
6. Personal trainers and workout partners
You can look for weight-loss motivation from the outside—personal trainers and workout partners in particular. Peer support and group motivation a proven ways to keep you motivated along your weight-loss journey (17).
Research nearby gyms and fitness studios for a personal trainer. It's best if prospective trainers have professional credentials and certifications. You can also find workout partners or gym buddies via online platforms and smart apps.
7. Tracking progress
A directionless weight-loss routine is not the best approach. Instead, keep notes of your progress in a weight-loss journal. This will help you to make informed decisions, measure success, and keep on top of your weight-loss motivation.
In a number of studies, it was found that participants who kept a food journal and did fitness tracking had better weight-loss outcomes. Furthermore, those who monitored their progress more frequently achieved the best results (18).
Once again, technology may be your best friend here. Web-based tools and fitness apps can be used to monitor progress, calculate calorie burn, and more. Food logging apps can do nutritional calculations, help you notice eating patterns, and can make shopping easier.
8. Meal planning and snacks
Weekly or monthly meal planning can serve several purposes. The perspective it gives can help you create more nutritious meals using a wider variety of ingredients. You can also calculate calorie intake more accurately plus save on preparation and shopping time.
Meal planning often precludes eating at home. Some research has shown that people who regularly cooked at home were less likely to be overweight than those who didn't (19).
It is also a good idea to plan for healthy snacking as part of meal planning. Look into nutritionally rich diet snacks such as kale chips, protein bars, trail mix, or chia pudding. This way, you have less chance of overeating late on.
9. Healthy fats and proteins
When trying to lose weight, it makes sense to focus on foods that are satiating or which make you feel full and satisfied. If you feel fuller and more satisfied eating less food, this is more likely to spike your motivation.
Try to include protein in every meal since it helps modulate the production of the hunger hormone ghrelin (20). Fats have a similar effect, and unsaturated fats or omega-3 fats are the best fats to include for weight-loss success.
Some key foods to include in your healthy eating plan are chicken breast, avocados, salmon, herring, dark chocolate, peanut butter, eggs, and black beans.
10. Getting enough sleep
Quality sleep is another weight-loss motivation technique that cannot be waved aside. After a good night's sleep, you will feel more motivated throughout the day.
A lack of quality sleep can actually lead to a greater probability of weight gain (21, 22). You're also more likely to snack if you stay up late doing things like watching T.V. Smartphones, other gadgets, and TV should also be kept out of the bedroom (23).
11. Managing stress
Stress can also be a downer when it comes to losing weight. Raised stress levels increase the production of cortisol—a stress hormone that increases hunger—and can even lead to weight gain (24, 25).
Interestingly, stress has been reported to cause increased cravings for sugar, sugary drinks, and fried foods (26, 27).
It's therefore important to have a healthy work-life balance and to learn how to unwind. Meditation, listening to music, and breathing exercises are some easy ways to destress.
12. Celebrating progress
Weight loss isn't so much a massive victory as it is small wins along the way. Delighting in your small weight-loss efforts will take you a step further to ultimate victory.
Celebrating your weight loss needn't be just about the cake and all the trimmings. Try something like a special night out, a new outfit, or even some nicer gym togs. If you can, it's great to include friends, family, or weight-loss supporters.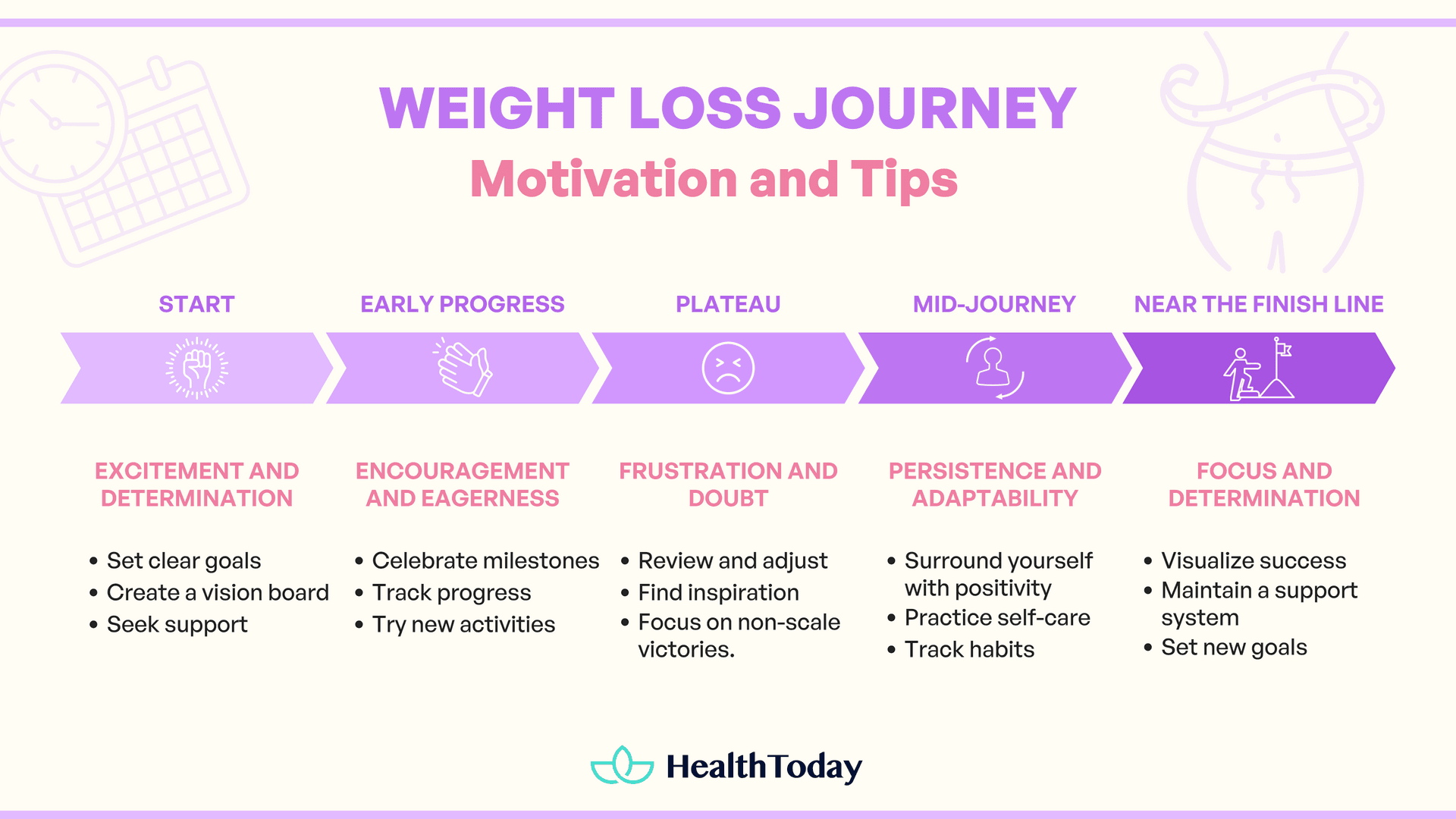 Why am I unmotivated to lose weight?
Sometimes losing weight can appear daunting, but set small achievable goals to begin with. Motivation is partly related to how the brain works. Make small but important changes in your diet and include foods that can increase dopamine production.
What exercise burns the most calories?
The relationship between exercise and weight loss is not completely understood. However, a number of studies report that HIIT, weight resistance training, aerobics, and Pilates are the best exercise routines for weight loss.
How can I lose 20 pounds in a month?
In all likelihood, 20 lbs a month is not a feasible target. You are more likely to lose weight if you set achievable goals—and these vary from person to person. Assess what is practical in terms of your age, health, intrinsic motivation, and other factors.
How can I lose weight if I am unmotivated or lazy?
Even if you weigh 200 lbs, losing just 5 lbs is a huge step forward. The joy you get from those simple achievements will rewire your brain with increased motivation. Most importantly, find ways that make weight loss enjoyable.
What's the best thing to do to start losing weight?
The only way to start a weight-loss journey is to step out the door. Start with one small research-based strategy at a time. Incremental changes add up to bigger steps, but starting now is the only start you need. 
Summary
No matter what your weight-loss goals are, they are always worth pursuing. Ultimately, you have nothing to lose except some pounds along the way. But, if you can understand how to increase your weight-loss motivation, you can achieve the success you deserve. Simple things like weight-loss affirmations, goal setting, and body positivity are all quite effective. Track your progress and work together with other people. Cook healthy meals at home, sleep well, and reward yourself every now and then.