Table of Contents
Don't sacrifice taste for weight loss goals because you can still easily have a delicious and nutritious dinner. We've rounded up 25 healthy dinner ideas for weight loss that are simple, stress-free, with few ingredients and steps, but still deliver the flavor for a weeknight dinner that's the bomb.
Each dish clocks in between 250-400 calories and packs at least 6 grams of fiber and 15 grams of protein per serving, so you can crush your weight loss goals and still feel full and satisfied.
And if you're also looking for something light for lunch, we've got you covered with five easy weight loss lunches everyone can make.
25 healthy dinners for weight loss: Easy to cook at home
Swap out empty calories for healthy options like lean meats, whole grains, and colorful vegetables. These dinner ideas provide the perfect combination of nutrition and taste, making it easy to stay on track with your weight loss goals while enjoying every bite.
1. Taco Zucchini Boats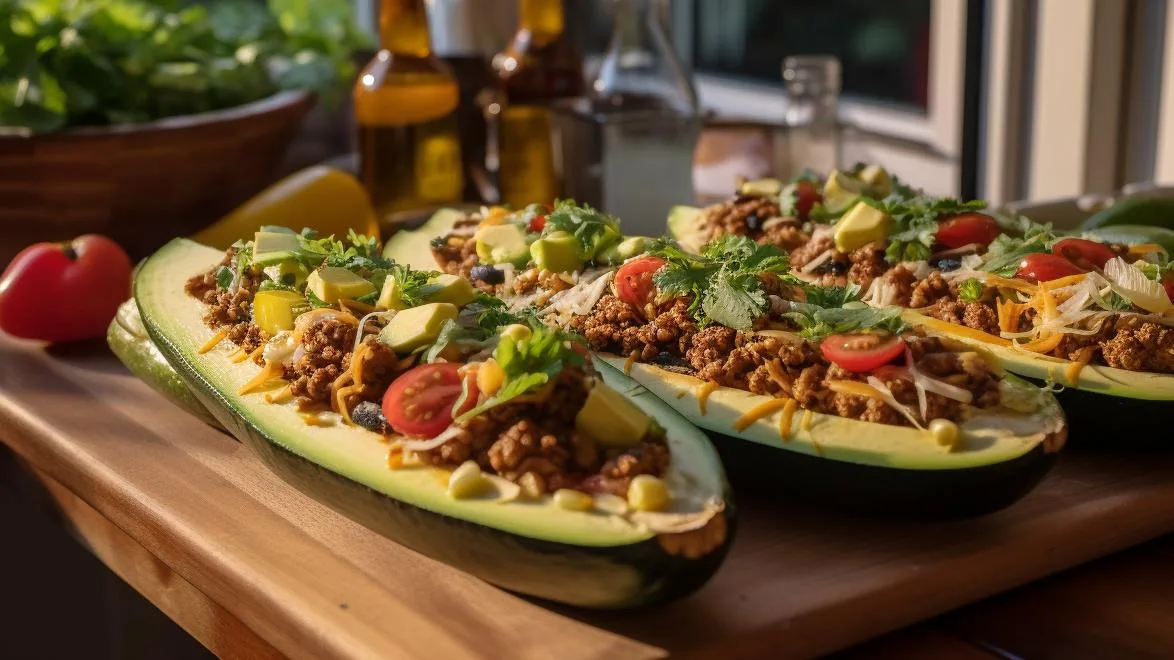 Elevate your cooking game with this amazing recipe. Whether cutting back on carbs or following a paleo lifestyle, these zucchini boats are a delicious and flavorful way to get your veggies in. Consider topping them with feta cheese or avocadoes for added flavor and healthy fats.
2. Mapo Tofu
Tofu is more than just a bland protein source; it's also replete with vital minerals for weight loss. In this recipe, experience the ultimate umami sensation with tender tofu and bold beef in a spicy sauce.
3. Aromatic Turmeric Chicken
Losing weight and eating healthy can be easy with this light dish. Plus, gluten-free eaters can enjoy it without any worry or discomfort. Take your taste buds on a flavorful journey with this high-protein chicken breast seasoned with turmeric, served alongside a colorful array of veggies and nutty buckwheat.
4. Thai Curry Soup With Sweet Potato
This soup will surely delight your senses with 50% DV of fiber and warm you up from the inside out. The sweetness of the sweet potato and carrot blends perfectly with the bold flavors of the Thai curry paste to feed your soul.
5. Salmon Salad In Avocados
Whip up a flavorful and energizing salad quickly with this quick and easy recipe. This heart-healthy recipe also tempts your appetite full of healthy fats. In this recipe, using the tastiest possible ingredients is the key.
6. Lemon Chicken Piccata
Creaminess doesn't have to mean high calories. Indulge in a creamy keto dish that won't sabotage your slimming-down goals. The zesty flavors of lemon, garlic, and capers bring out the best in tender chicken breasts, balanced perfectly by the subtle creaminess of coconut cream.
7. Roasted Pepper Hummus With Crispy Vegetables
Warm up your body and taste buds with this hearty chicken soup with wholesome ingredients. Upgrade your soup with healthy fats from the avocado. Sip on this delicious soup to revitalize your body and de-stress after a long day.
8. Detox Southwest Chicken Soup
Chickpeas are a great addition to any weight loss diet due to their high protein content. This recipe captures the nuttiness of the chickpea but still leaves a beautiful grainy texture. Add some crunch to your hummus with a tasty blend of greens loaded with nourishing fiber.
9. Shrimp Salad With Warm Citrus Dressing
You can get a taste of the ocean at home in just 20 minutes that won't weigh you down. This recipe guarantees that much. Plus, it is simple to your daily veggies in with crispy spinach and warming dressing.
10. Spinach Frittata
This colorful frittata is brimmed with nutrient-rich veggies and creamy feta cheese. It's perfect for busy mornings or make-ahead lunches that are both flavorful and nutritious.
11. Italian Mixed Seafood Soup
Enjoy the authentic taste of the ocean with this refreshing seafood soup. It is packed with protein and bursts with the flavors of five types of fish and aromatic herbs.
12. Tuscan Beef Scottiglia With Mushrooms and Asparagus
Warm your soul with this hearty Italian beef stew. The match made of tender beef and savory sauce will make you feel like you're dining in Tuscany.
13. Pasta Primavera
Get your pasta fixed without guilt with this flavorful vegetable pasta dish. It's packed with colorful veggies, a hint of spice, and a sprinkle of Parmesan cheese. A perfect way to enjoy a comfort food classic for any weight loss journey!
14. Mediterranean Salmon Provencal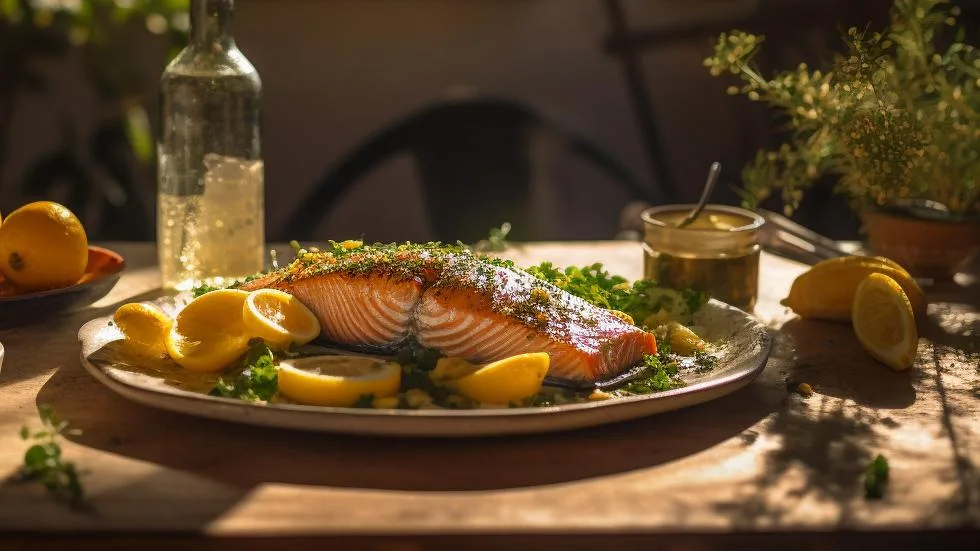 Indulge in the rich flavor of salmon done Mediterranean-style, complete with fragrant herbs. Plus, fennel and radish bring a unique and playful twist to this recipe, which will have your taste buds dancing.
15. Cauliflower Steak With Turmeric Sauce
This recipe is a plant-based powerhouse, using a savory blend of warm spices to create an umami flavor for a meatless alternative. A combination of warm spices gives the "steaks" a rich, bold taste, while the Greek yogurt sauce adds a creamy touch without guilt.
16. Fish En Papillote With Asparagus Salad
Immerse yourself in the flavors of France with this classic technique of Fish En Papillote. The white fish is perfectly cooked, and the flavors are sealed in a parchment paper packet. Top with crunchy asparagus, zucchini, and juicy tomatoes, then summer is on your plate!
17. Stewed Beef Brisket With Tomato
There's nothing quite like a slow-simmered stew to warm your heart and nourish your body. This stew creates a perfect harmony of fat and lean beef with a flavor explosion that will satisfy you.
18. Stuffed Eggplant with Ground Meat
Make mealtime exciting again with this eggplant's mystical color, and low-calorie and high-fiber content. This stuffed version is sure to become a family favorite while being so easy to prep ahead.
19. Roasted Salmon with Citrus and Herb Salad
Turn the regular salmon dinner into a culinary adventure with this mouth-watering salad. This recipe bursts with the bright flavors of citrus and herbs. It should be the star to satisfy your craving for freshness and depth of flavor.
20. Red Lentil Soup
You won't believe how effortless it is to make this "concoction" infused with nourishing herbs and chock-full of vegan protein. This weight-friendly red lentil soup is perfect for warming your body and soul on a chilly night.
21. Beef and Pine Nuts Lettuce Wrap
This lettuce wrap gives you the unique flavor combination of tender beef, tangy kiwi, and crunchy lettuce. Plus, savor a low-calorie option with nourishing nutrients in every bite.
22. Easy Homemade Guacamole
Say goodbye to bland dips and hello to this zesty guacamole recipe that's bursting with flavor and healthy fats. For standout guacamole, get the ingredient ratios spot-on. However, guacamole lacks protein and carbohydrates, so making it a side dish is better.
23. Turkey & Zucchini Skillet
With just one pan and a handful of simple ingredients, you can whip up a satisfying low-carb dinner in no time. It's brimmed with lean protein and nourishing fibers that are budget-friendly and sure to impress.
24. Easy Fish Tacos
With this effortless formula, you can make a delicious fish taco in 10 minutes. A creamy and spicy sauce enhances fresh fish and crunchy slaw. Make weight-loss dinner a fiesta!
25. Walnut Crusted Chicken Breast with Tomato Cherry Sauce
Indulge in a nutritious dish by following this effortless chicken recipe. You'll enjoy an explosion of textures with the delightful crunch from the nutty walnuts. Plus, the sweet and bright tomato-cherry sauce brings a symphony of flavors to your mouth.
5 easy weight loss lunches everyone can make
1. Beef with Bitter Melon
Don't let the bitterness of bitter melon scare you away. This stir-fry recipe with oyster sauce will make you believe in its weight loss benefits. Explore tips on cutting down the bitterness while enjoying its nutritional value.
2. Kale Salad With Lemon Vinaigrette
Eating healthy is no more challenging with this kale salad bowl. This colorful and delicious nutrient powerhouse makes it the perfect lunch option to cheer you up.
3. Super Simple Stir-Fried Chicken Breast
This one-pan chicken and veggie dish is perfect for a quick and nutritious lunch. Besides, King Oyster Mushrooms have a meaty texture that can help satisfy cravings for heavier, high-calorie foods.
4. Easy Beef And Broccoli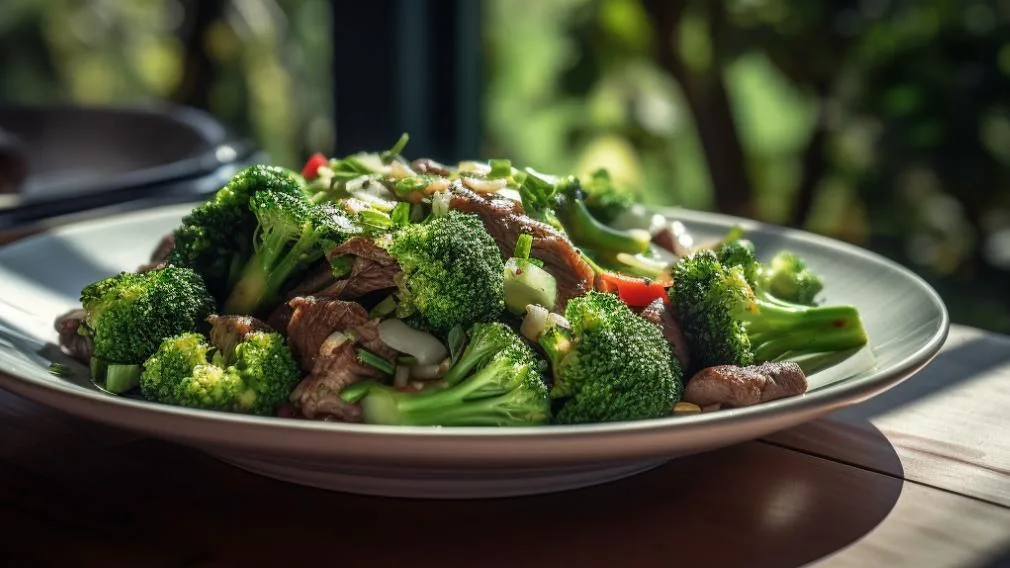 This tender beef and veggie stir-fry is a quick and easy way to get a healthy dose of nutrients on the table in no time. The ginger adds a bold and zesty flavor to make it plenty satisfying.
5. Braised Chicken With Mashed Purple Sweet Potatoes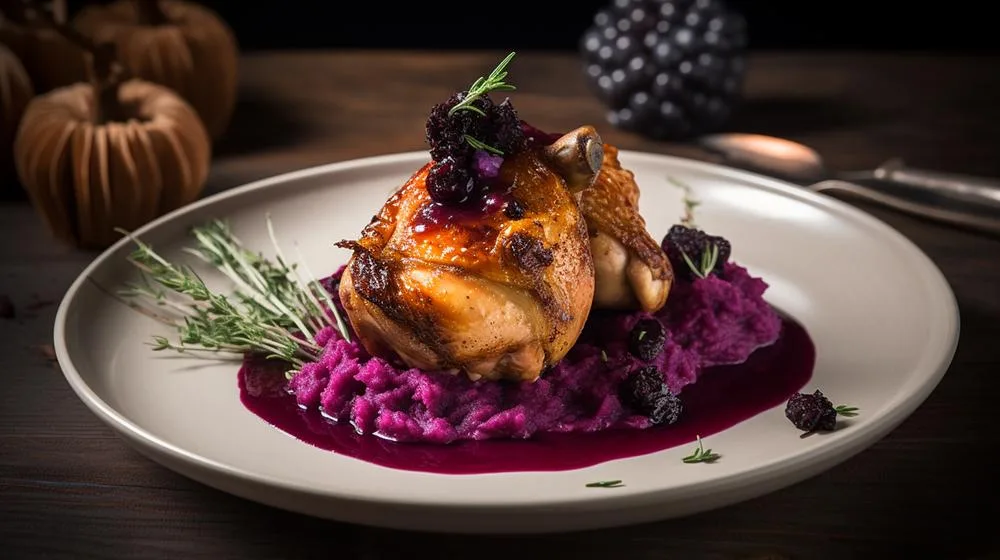 Fiber-high purple sweet potatoes add the perfect balance of sweet and savory, helping you not to miss the carbs. Rich, creamy, and oh-so-satisfying, it's a healthy dish for getting in shape.
Summary
To achieve your weight loss goal, don't let your busy schedule get in the way. Bear in mind these three simple rules when planning your weight-loss dinner:
Stick to appropriate serving sizes to control your calorie intake.

Opt for lean protein, complex carbohydrates, healthy fats, and fiber. Steer clear of processed and sugary foods.

Drink plenty of water and practice mindful eating: eat slowly, chew well, and be present.
Fuel your weight loss journey with our curated selection of easy and tasty dinner and lunch ideas to satisfy your hunger. Happy eating!