Table of Contents
When starting your weight-loss journey, it's easy to get overwhelmed by all the various programs! To make it easier, HealthToday has researched the 15 best weight loss programs of 2023.
All these programs have a sound scientific basis, and there's a range of diets to suit most lifestyles and needs. Some are commercial weight loss programs, while others provide free resources and information. Start your journey today and discover which is the best weight loss program for you.
How we chose the best weight loss programs
When it comes to slimming down, it's really important to find a program that's safe, effective, and customizable. You're more likely to stick to a weight loss program that can fit your dietary needs, lifestyle demands, and goals.
Here are the criteria we used in selecting the best 15 weight-loss programs:
Proven weight loss effectiveness
It is crucial to ensure that any weight loss program you choose is backed by good research studies.
With proven methods, you're more likely to achieve your weight loss goals without putting your health at risk. The best weight loss programs tend to be more holistic ones that include nutrition, exercise, and behavior changes.
By choosing a diet program designed by experts and backed by research, you can feel confident that you are making a smart choice that will benefit your health and well-being in the long run.
Sustainability and support
The key to long-term weight-loss success is behavioral change. Weight-loss programs that focus on this, rather than just restrictions, tend to be more effective in helping people to drop weight and keep it off.
This may involve learning new eating habits, adopting a more active lifestyle, learning how to cook, or managing stress and emotions without turning to food.
Additionally, having a support network like a coach, a peer group, or online resources can provide accountability and encouragement. It also makes it easier to stick with healthy habits after your weight loss goals are achieved.
Nutritional balance and overall health
We make sure that each weight loss program will not only help you lose fat but do so in a healthy and sustainable smart way.
Overly restrictive diets can lead to nutrient deficiencies and other health problems. Therefore, it's important that any program includes a variety of foods and a balanced diet to meet all nutritional needs.
We also investigate the side effects of any diet program that may harm the health of specific individuals. Additionally, programs that offer health benefits beyond weight loss are better for achieving overall wellness.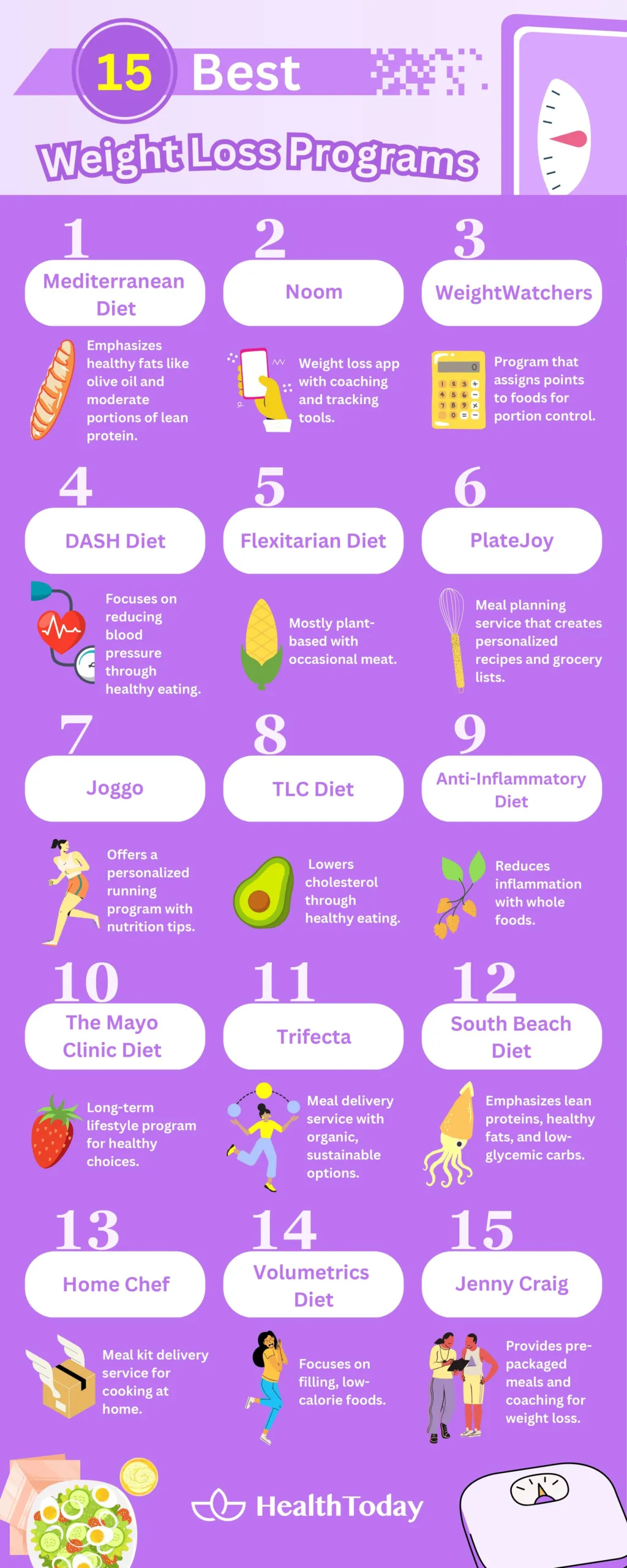 The 15 best weight loss programs of 2023
1. The Mediterranean diet
Keynotes: Emphasize plant-based foods, healthy fats, whole grains, and moderate portions of lean protein.
Best for: Suitable for everyone.
Cost: Non-commercial with no additional costs.
What it's about
This popular diet program is based on the traditional eating habits of countries surrounding the Mediterranean Sea. It emphasizes plant-based foods, fruits, whole grains, beans, and legumes. It includes healthy fats and moderate portions of lean protein, with a minimum of processed food.
A key feature is healthy fats from sources like olive oil, nuts, and fish. These fats can be good for the heart and make you feel full or satiated. This also reduces the risk of overeating or snacking on unhealthy foods.
How it helps lose weight
The Mediterranean diet is more like a lifestyle than just a diet. It is easy to follow and can be adapted to suit individual needs. The diet doesn't focus on restricting 'bad food' but instead allows for natural leeway.
Pros
Suitable for everyone
Easy to follow
Delicious and flavorful
Numerous supporting studies
Abundant resources
Cons
Higher in calories
More portion monitoring
Portion calculations lacking
Includes alcohol
What the experts say
A study in the New England Journal of Medicine found the Mediterranean diet more effective than even a low-fat diet at weight loss and sustained weight loss over a two-year period. It also improved cholesterol and fasting blood glucose levels (1).
According to a study published in the Journal of the American College of Cardiology, following the Mediterranean diet resulted in weight loss and improved cardiovascular health (2).
Experts have also praised this weight loss diet for its sustainability and flexibility. One review published in Public Health Nutrition notes that the diet is accessible, affordable, and suits a variety of cultural traditions and lifestyles (3).
However, the Mediterranean diet does encourage the consumption of small amounts of red wine. Research suggests that alcohol in any form or quantity is harmful to health (4). Therefore, be mindful of this if you have been advised to limit your alcohol intake.
2. WeightWatchers diet
Keypoints: Uses a points system and peer support to encourage healthy eating habits and physical activity.
Best for People looking for peer support, app convenience, and dieting flexibility.
Cost: From 10 USD to 43 USD monthly, depending on subscription.
What it's about
WeightWatchers is a popular weight loss program that has been around since the 1960s. Participants are assigned points based on their age, gender, weight, and activity level. Foods are likewise assigned points based on calorie, fat, and fiber content.
Participants are encouraged to stay within their daily point limit and make healthy choices. This weight loss program offers support and accountability via meetings and online communities. Participants can attend weekly' weigh-in' support meetings.
The online community provides access to recipes, meal plans, and fitness tips. For an added cost, there is personalized coaching for additional support and motivation.
How it helps lose weight
Weight Watchers is a flexible and sustainable approach that also emphasizes physical activity. Dieting can be tailored to individual needs and preferences while participants can still enjoy their favorite foods. This makes it easier to sustain the diet long-term.
Pros
Flexibility in food choices
Personalized meal plans
Supportive online community
Focus on healthy habits
No food type restrictions
Cons
Coaching options expensive
The point system is not perfect
Time and effort to track food intake
Meetings are time-consuming
What the experts say
A study published in the Journal of Public Health found that WeightWatchers can be compared to other primary care therapy options. After a 12-session course, individuals lost 5% of their body weight. (5).
Some critics have pointed out that the program can be expensive and may require tracking of food and activity. A research study, however, that looked at non-surgical interventions found that Weight Watchers was a good choice for its affordability (6).
3. The Noom diet
Key points: Focuses on behavior change with personalized coaching, daily coaching, peer support, and food tracking tools.
Best for: Repeated weight loss failure and those who may have psychological impasses related to weight loss or weight gain.
Costs: Prices range from 17.42 USD to 70 USD per month.
What is it?
The Noom diet is a psychology-based weight loss program that focuses on behavioral change. It has a comprehensive food log, tracking tools, personalized coaching, and daily lessons. It also includes peer motivational groups and intuitive wellness tracking tools.
For additional coaching, participants are matched with a coach who provides support and guidance. Coaches help participants set goals and track progress.
How it helps lose weight
The Noom approach believes that sustainable weight loss comes from changing habits and behaviors rather than restricting calories. The program uses cognitive-behavioral techniques to help participants identify and overcome barriers to weight loss, such as emotional eating and negative self-talk.
Pros
Personalized coaching throughout
Emphasis on behavior change
Develops healthier eating habits
Holistic elements included
Customizable goals
Cons
Subscription-based programs costly for some
App engagement is often time-consuming
Food tracking apps are comparatively limited
What the experts say
According to a study published in the Journal of Medical Internet Research, participants in the Noom program experienced significant weight loss and improvements in insulin-resistant markers at 8 weeks compared to the control group (7).
Another study found that Noom was associated with significant weight loss, especially those who engaged with the program for longer durations (8).
In a controlled clinical trial, participants enrolled in a 15-week program with Noom and lost 7.5% of their weight. Their blood lipid profile and fasting glucose levels improved, and the weight loss effect persisted at 5.2% during the 52-week follow-up (9).
4. The DASH diet
Key points: Emphasizes low-sodium, whole foods, fruits, vegetables, lean protein, and low-fat dairy products.
Best for: People with concerns over cardiovascular issues.
Cost: Non-commercial with no additional costs.
What it's about
The DASH diet is a plan by the National Heart, Lung, and Blood Institute to prevent and control hypertension.
It emphasizes nutrient-rich whole foods, particularly those that are high in potassium, magnesium, and calcium. Vegetables, fruits, low-fat dairy, nuts and seeds, beans, and lean proteins like chicken or fish are encouraged.
The diet restricts sodium, added sugars, and saturated fats found in fatty meats, sugary desserts, beverages, and ultra-processed foods. The DASH diet provides specific guidelines for daily and weekly food consumption with recommended servings.
How it helps lose weight
People can achieve sustainable weight loss and improved overall health by focusing on whole and nutrient-rich foods as well as healthy fats. It is easy to follow and adapt to individual preferences and dietary restrictions.
Pros
Details on specific foods
Clear indications of portions
Proven extended health benefits
Cons
Sodium restriction is challenging
Requires more skilled preparation
Weight loss is not the primary focus
Challenging for lactose intolerance
May not suit vegans and vegetarians
What the experts say
A study found that the DASH diet is more effective than low-calorie diets at reducing weight and body fat, especially in overweight and obese individuals (10).
The DASH diet was initially designed to lower blood pressure in patients with hypertension. Therefore, it has health benefits to reduce the risk of heart disease (11).
5. The Mayo Clinic diet
Key points: Focuses on making sustainable lifestyle changes with meal plans, exercise motivation, and social support.
Best for: People with diabetes or who need to lose weight for specific medical reasons.
Cost: Registration is 50 USD, then 5 USD per week with a 12-week minimum commitment. One-on-one coaching costs vary.
What it's about
The Mayo Clinic diet is a personalized weight loss program based on portion control and meal planning using the Mayo Clinic Healthy Weight Pyramid.
The program includes an online community and group coaching services. Participants can access resources such as meal plans, recipes, and fitness tips.
The Mayo Clinic Diet focuses on making sustainable lifestyle changes that can lead to long-term weight loss and improved health. As an authority in medical research, the program can provide reassurance for people with chronic diseases.
How it helps you lose weight
The Mayo Clinic Diet is divided into two main phases: The 'Lose It!' phase and the 'Live It!' phase. The 'Lose It!' phase is a two-week period that involves cutting out certain foods such as ones with added sugar, and focusing on healthier choices. The 'Live It!' phase is a long-term maintenance plan that emphasizes making lifestyle changes.
Pros
Sustainable lifestyle changes
Includes physical activity
Structured meal plans and portion control
Access to online resources
Cons
Difficult in the beginning phase
Meal prep and planning take time
No personalized meal plans
Full program costs
What the experts say
Aspects of the Mayo approach are based on evidence-based recommendations for weight loss, especially their comprehensive lifestyle modification (13).
The diet uses a simultaneous dieting and exercise approach, which has been shown to help muscle mass and potentially lose fat by accelerating metabolism (14).
According to studies, making long-term lifestyle adjustments and losing weight gradually are the keys to weight reduction success. This is similar to the second phase of the Mayo Clinic diet (15).
Additionally, physical exercise, which the Mayo Diet emphasized, is linked to greater fitness and may reduce the risk of death from obesity (16).
6. The Flexitarian diet
Keynotes: Allows for occasional meat consumption while emphasizing whole foods, fruits, vegetables, legumes, and home cooking.
Best for: People wanting to reduce animal fats and increase plant-based foods with more environmentally-friendly choices and reduced food costs.
Cost: Non-commercial with no additional costs.
What it's about
The Flexitarian Diet is a popular plant-based diet that allows for occasional meat consumption. The word 'flexitarian' is a combination of 'flexible' and 'vegetarian.'
The Flexitarian Diet emphasizes eating whole, unprocessed foods. It also encourages people to cook at home, which can help form healthy eating habits.
It follows a balanced plant-based diet that is low in calories and high in nutrients and fibers. Healthy fats, such as those found in avocado and flaxseed oil, as well as plant-based protein sources like tofu, provide satiety.
How it helps lose weight
The Flexitarian Diet can increase fiber intake, which can support regular bowel movements and nourish beneficial bacteria in the gut. A nutrient-rich plant-based plan can also help reduce food cravings and improve satiety
Pros
Mostly plant-based.
Sustainable reduction of meat.
Nutrient-rich.
A cost-effective and flexible
Cons
Requires planning for a varied diet
Few guidelines are offered.
May inhibit socializing due to meat restriction.
What the experts say
According to a study published in Frontiers in Nutrition, adopting the Flexitarian Diet may lead to improved body weight, cardiovascular health, and blood lipid profiles due to the focus on plant-based foods (17).
Research links meat intake with health issues like cancer, diabetes, and obesity, leading to a growing recognition that meat may not have the once-thought health benefits (18, 19).
Flexitarianism, which involves reducing meat intake rather than eliminating it altogether, presents a practical solution that benefits both personal health and environmental sustainability (20, 21).
While a vegan diet may require greater attention to certain nutrient deficiencies, the Flexitarian diet requires less concern. However, it is still important to be aware of possible deficiencies (22).
7. The PlateJoy diet
Keynotes: Offers personalized meal plans based on an individual's dietary preferences and health goals, as well as grocery lists and recipes.
Best for: People enjoying home cooking and personal recipe inspiration.
Cost: A 10-day free trial and 6,12, or 18-month subscriptions from 69 USD to 119 USD.
What it's about
PlateJoy is a meal planning and subscription service that offers personalized meal plans based on individual dietary preferences and health goals. The service provides grocery lists, recipes, and suggests local delivery options.
Users begin by taking a lifestyle quiz about dietary restrictions, food preferences, and cooking habits. It then generates tailored meal plans set to individual health goals.
The meal plans are easy to follow and include a variety of nutritious whole foods and a calculated nutritional score.
How it helps you lose weight
PlateJoy provides meal plans that are tailored to meet both individual calorie and nutrient needs. This can help individuals achieve a calorie deficit, which is necessary for weight loss. It emphasizes whole foods and provides recipes that are low in calories but high in nutrition, which can help people highly save time and reduce meal planning.
Pros
Customized meal plans
Accommodate dietary restrictions
Includes grocery shopping list
Reduced meal preparation time
World food recipes and vegetarian options
Balanced meal ID's
Cons
A subscription-based cost barriers
Disciplined program with little leeway.
May not support a social lifestyle
No peer support
No physical activity guidance
What Experts Say
Studies have shown that tailoring a diet to individual preferences and encouraging self-monitoring are successful weight loss strategies (23).
Furthermore, meal planning allows for better control over portion sizes and nutrient intake. (24) Therefore, incorporating PlateJoy can be an effective weight loss program for achieving long-term weight loss.
8. The Joggo diet
Keynotes: Offers a personalized running program with nutrition tips and access to a nutritionist and support group.
Best for: People looking for an exercise-based program and don't mind jogging.
Cost: Basic plan 7.99 USD per month, Standard 9.99 USD, and Premium 14.99 USD.
What it's about
Joggo is a personalized running program that includes nutrition tips and access to a nutritionist and support group. The program emphasizes physical activity and healthy eating habits with customized meal plans based on individual weight loss goals.
People can start at their own pace and gradually increase running distance and intensity while building a routine. The program also focuses on stretching and cross-training to improve overall fitness and prevent injury.
You can choose from three plans. The basic plan includes access to Joggo's workout and meal plans and online community. For the standard and premium plans, you get a personalized nutrition plan, one-on-one coaching, and access to workout videos.
How it helps you lose weight
Joggo combines a number of key factors, namely physical activity, personalized meal plans, peer support, nutritional tips, and access to a nutritionist. It is designed to help people achieve sustainable weight loss through regular exercise and lifestyle changes.
Pros
Personalized meal plans
Gradual goal setting
Convenient app-based access
Professional and peer support
Cons
Cost barriers for some
Limited to jogging
May not match all health conditions
What Experts Say
Studies show that combining jogging with a mild weight loss diet can make the weight loss journey more efficient (25). Also, moderate-intensity exercise like walking or jogging is a recommended strategy for weight loss or weight management (26).
Additional randomized clinical trials have demonstrated that exercise, combined with dieting, results in modest weight reduction affecting both total and belly fat (26).
9. The TLC diet
Keynotes: Emphasizes low-saturated fat, whole foods, fruits, vegetables, lean protein, and low-fat dairy products to lower cholesterol levels.
Best for Combining a healthy diet with physical activity is also recommended for avoiding lifestyle cardiac diseases or reducing cholesterol.
Cost: Non-commercial with no additional costs.
What it's about
The TLC Diet, short for Therapeutic Lifestyle Changes, was created by the National Institutes of Health's National Cholesterol Education Program to help people lower cholesterol levels and reduce the risk of heart disease. Fortunately, it has also been found to be effective for weight loss.
Like other popular healthy diets, the TLC diet encourages eating fiber-rich food groups such as whole grains, fruits, and vegetables to support optimal health and wellness. It places a particular emphasis on water-soluble fiber.
Additionally, the diet is carefully designed to be low in saturated fat, trans fat, and dietary cholesterol while promoting lean sources of animal protein. This includes white meat, poultry, fish, and low-fat dairy.
The TLC diet also emphasizes the importance of physical activity, making it a more rounded option. It gives tips on diet and recommended physical activity types and frequency.
How it helps lose weight
In order to promote sustainable weight loss, the TLC diet effectively deploys a number of strategies, including regular physical activity, controlled calorie intake using nutrient-rich food, and increasing soluble fiber.
Pros
Low cholesterol foods
Lower risk of heart disease and stroke
Nutritional guidelines
Promote regular exercising
Cons
May limit food choices
Some guidelines appear outdated
What Experts Say
For people with high cholesterol who want to lose weight, the TLC diet is proven a relatively good choice (27). Research also points to increased soluble fiber intake and physical activity as two common strategies for promoting weight loss (28, 29, 30).
10. The anti-inflammatory diet
Keynotes: Focuses on whole foods, fruits, vegetables, lean protein, and healthy fats to reduce inflammation and promote weight loss.
Best for: Healthy-eating beginners.
Cost: Non-commercial with no additional costs.
What it's about
The Anti-Inflammatory Diet largely combines elements of the Mediterranean Diet, Flexitarian Diet, TLC Diet with a focus on foods rich in anti-inflammation properties.
As such, the diet highlights whole foods, nutrient-dense foods, and foods containing antioxidants or omega-3 and omega-9 oils.
The anti-inflammatory diet steers clear of highly processed foods with added sugar, such as foods containing high fructose corn syrup)
The basic tenets of the anti-inflammatory diet can naturally lead to weight loss while alleviating chronic inflammation and balancing hormones (28).
How it helps lose weight
The anti-inflammatory diet helps to raise awareness of the best food groups to incorporate into your nutritional program. It often means just making simple swaps in meals, such as using olive oil instead of butter or snacking on nuts instead of chips.
Pros
Nutrient-rich support for healthy weight loss
Can help with chronic diseases.
Flexible and sustainable
Cons
Food choices can be high in calories
No structured meal or portion guidelines
Not focused on weight loss as such
What experts say
In recent years, addressing chronic inflammation has become more prominent. One reason for this is the rise in autoimmune disorders, inflammatory bowel disease, and metabolic syndrome (29).
A diet that emphasizes natural anti-inflammatory compounds in food can have significant benefits for improving overall health and for certain auto-immune diseases and diabetes. Weight loss is just one of the many potential benefits. (30, 31, 32, 33)
Antioxidants work by reducing levels of free radicals. These reactive molecules are created as a natural course of metabolism but can lead to inflammation when not held in check (34).
11. The South Beach diet
Keynotes: Emphasizes low-carb, high-protein foods while focusing on lean protein, healthy fats, and whole foods.
Best for: Meat lovers but focused on healthier protein cuts, more complex carbohydrates, and increasing insulin resistance.
Cost: Non-commercial with no additional costs.
What it's about
The South Beach Diet is a weight loss program created by cardiologist Dr. Arthur Angaston. Its aim is to help people with chronic diseases lose weight by cutting out refined carbohydrates and targeting low-glycemic foods.
It's a type of low-carb diet combined with high-protein intake that encourages lean proteins, unsaturated fats, and complex carbohydrates like vegetables and whole grains.
The first phase of the diet actually eliminates all carbohydrates. Then, it slowly reintroduces low glycemic index foods as you resume a more normal but modified diet (35).
How it helps you lose weight
The South Beach Diet essentially reorientates the way most people approach carbohydrates. It helps weight management in two ways. One is by stabilizing blood sugar levels by eliminating excess and refined carbohydrates. The other is by increasing satiety via protein intake.
Pros
A healthy balance of carbs, fat, and lean proteins
Often rapid weight loss in the initial phase
Structured guidelines
Cons
The initial phase is tough to pull through
More expensive meat cuts required
What the experts say
In a small 12-week study, obese people following the South Beach Diet lost an average of 11 pounds and 2 inches from their waists. Participants experienced significant decreases in fasting insulin and an increase in the fullness hormone CCK (36).
Also, another study showed that even without strict calorie counts, gradually increasing protein and reducing high glycemic foods can improve weight loss and weight management (37). Increased protein intake is also noted for satiating efficiency in relation to weight loss (38).
12. The Trifecta diet
Keynotes: Provides organic meal delivery service with an emphasis on high-quality proteins and fresh produce.
Best for: People who want to combine pre-made sustainable organic meals with fitness, nutritional, and one-to-one support.
Cost: Prices generally range from $99.99 USD to 119.20 USD per bulk delivery.
What it's about
Trifecta is a US-based fitness app via which you order specially prepared and vacuum-packed ready-made meals for weight management. It guarantees that all ingredients are organic, non-GMO, and additive-free. They also cater to dietary needs, such as vegan, keto, and paleo.
People can choose meals that fit their dietary needs and preferences. Trifecta also offers plenty of fitness and nutrition resources, such as macro tracking, meal planning, and nutrition coaching, to help people achieve their weight loss goals.
Some may find that Trifecta's pre-portioned diet meals lack flexibility or variety. Others may prefer personalized coaching for further support. However, Trifecta still has its strengths for those who lack the time to prepare healthy meals.
How it helps lose weight
Trifecta provides a convenient and easy way to procure healthy meals. With Trifecta, people don't have to worry about grocery shopping, meal planning, or cooking.
You can simply order their meals online and have them delivered right to your doorstep. Plus, Trifecta's meals are pre-portioned and nutritionally balanced, which can help you enjoy a sustained weight loss journey.
Pros
Ready-made meals for all dietary needs
Nutrient-dense meals
Uses organic foods
Sustainably sourced ingredients
Meals can also be frozen
Cons
Often pricier than home cooking
Limited to fixed meal selections
What the experts say
Numerous studies have shown that consuming nutrient-dense foods can aid in weight loss, reduce inflammation, slow down the aging process, and prolong life (39).
Research shows that consuming fewer processed foods rather than calorie counting is more effective for weight loss. One study revealed how digesting unprocessed meals burned twice as many calories compared to digesting processed foods (40)
Some research shows that organic foods may be more dense in several nutrients linked to better health (41, 42, 43).
13. The Volumetrics diet
Keynotes: Emphasizes low-calorie foods like fruits, vegetables, and lean protein, but in larger-sized portions.
Best for: People who have struggled with satiety in dieting need large meals for visual appeal and to satisfy their appetite.
Cost: Non-commercial with no additional costs.
What it's about
The Volumetrics Diet emphasizes high water content with low-calorie foods such as fruits, vegetables, and lean protein. It was developed by Dr. Barbara Rolls, a nutrition researcher at Penn State University.
The diet is based on the principle that people tend to eat the same amount of food by volume, regardless of the number of total calories. Therefore, a key feature of the Volumetrics Diet is its focus on satiety.
By eating foods that are low in calories but high in volume, such as fruits and vegetables, people are able to feel full and satisfied while consuming fewer calories overall.
One drawback is that nutritious yet high-calorie foods, such as nuts, avocados, and egg yolks, tend to get overlooked. Meanwhile, low-calorie processed foods like fat-free snack products are allowed due to their low-calorie density.
How it helps lose weight
Volumetrics Diet is its focus on satiety. By eating foods that are low in calories but high in volume, people can feel full and satisfied with a lower overall calorie intake. This helps people lose weight without feeling hungry or deprived (44, 45).
Pros
Hunger is not such a problem
No need to count calories
Doesn't directly restrict any food groups
Cons
Takes time to learn low-calorie density food groups
Processed but low-calorie foods allowed
Some beneficial foods sidelined
What experts say
Reducing food intake is often challenging and can lead to hunger pangs. Therefore, a Volumetric Diet can be effective since changing energy density in a diet is an important factor (8, 46).
In one research experiment, encouraging people to eat low-energy-dense foods while also reducing fat intake was more effective for weight loss than just reducing fat intake (47).
Eating filling quantities of low-energy-dense meals is also a good strategy for improving satiety and controlling appetite while dieting (48).
14. The Home Chef diet
Keynotes: Home delivery meal kits with high-quality pre-portioned ingredients and easy-to-follow recipes.
Best for: A weight loss beginner for people with busy lives.
Cost: From $6.99 USD per serving, with a minimum order of two servings per recipe. Shipping is free for orders over $49 USD.
What it's about
Home Chef is a service, also with an app, whereby you can order portioned ingredients ready to cook— with recipe instructions included. Fresh, high-quality Ingredients are sourced from trusted suppliers.
In this way, you can enjoy healthy, restaurant-quality meals without the hassle of grocery shopping or meal planning. These kinds of meals can easily be incorporated into a weight loss program or used to control weight by eating healthier.
How it helps lose weight
By providing pre-portioned ingredients and easy-to-follow recipes, Home Chef takes the guesswork out of healthy eating. Plus, you can customize portions when ordering meals to fit your dietary needs and weight loss goals.
Pros
No shopping or planning is required
Pre-portioned meals with step-by-step instructions
Relatively wide meal variety
Affordable for individuals or groups of up to six
Cons
Vegetarian choices limited
It can be more costly than self-preparation
Limited customization for allergies or picky eaters
Packaging waste includes plastics
What the experts say
Studies show that high-quality meals cooked at home are more effective for weight control. Barriers to home cooking diets include lack of time, cooking skills, or the convenience of eating out (49).
Furthermore, a study indicated that meal prepping at home makes it easier to stick to weight loss goals and can lead to improved diet quality and increased weight loss (50).
15. The Jenny Craig diet
Keynotes: Personalized meal plans and coaching with an emphasis on portion control, healthy eating habits, and lifestyle changes.
Best for: Recommended for people used to eating processed foods and who need to transition into a healthier lifestyle.
Cost: From 13.99 USD to $26.99 USD per day, depending on plan.
What it's about
Jenny Craig is a popular weight loss program that goes back almost three decades. The program provides people with portion-controlled meals and personalized coaching.
Participants in the Jenny Craig program receive pre-packaged meals and snacks designed to aid in weight loss. The meals are portion-controlled and include a variety of foods, from breakfast items to snacks and entrees.
Along with meal delivery, you can opt for personalized coaching. The final part of the Jenny Craig program encourages clients to build healthy home cooking skills.
Each participant works with a personal consultant who provides guidance and support throughout their weight loss journey.
The consultant helps the participant set goals, track progress, and make healthy choices. However, Jenny Craig's programs are relatively expensive, and the meals cannot be customized.
How it helps lose weight
Jenny Craig is a guided weight loss and lifestyle program from beginning to end, supported by nutritional and personal assistance. In this way, you have the best chance of not only losing weight but also bringing about lifestyle changes for long-term weight control.
Pros
Personal consultant with Max Up plan
Pre-packaged weight-loss meals
The meal contains no artificial additives
Transitional support for home cooking
Peer group community
Cons
Costly for some people
Lack of emphasis on exercise
It isn't ideal for allergy and dietary restrictions
What the experts say
According to research, following the Jenny Craig program for 12 weeks helped overweight, sedentary women lose an average of 11.7 pounds each (51).
Another study showed that Jenny Craig was effective at helping people with weight management at 1 year (52).
An additional study was also associated with better blood sugar regulation and lower triglyceride levels compared to other counseling diets (53).
1. What is the best weight loss program?
The best weight loss program is one that matches your personal needs and preferences. Research programs that interest you and evaluate how they suit your lifestyle or what lifestyle changes you will need to make. Customization and progress tracking are very helpful.
2. Are there free weight loss programs?
There are many weight loss programs that are free. Some commercial weight loss programs may offer a free trial period before you decide to pay for additional support and user content. For free trials, check to see whether continuation is automatic or not.
3. What is the most effective weight loss program?
The most effective weight loss programs tend to be those that are scientifically based and incorporate some degree of physical activity. It's best to seek advice from a healthcare professional, especially if you have underlying medical concerns.
4. How to lose 10 pounds in a month?
Focus on a nutritionally balanced diet, get some exercise, stay hydrated, and try mindful eating techniques. Make sure your goals are attainable in terms of your lifestyle, be realistic, and be prepared to make some lifestyle changes.
5. Are there online weight loss programs?
Most programs have online content or information. Commercial weight loss programs often have a smart app. They may offer personalized meal plans, virtual coaching and support, online communities, and fitness tracking.
6. What should I do if I'm not losing weight on my diet?
The issue could be how you measure your progress, whether you're following the method correctly, and perhaps underlying health issues. Don't rely solely on the scale, take waist measurements. Consult the program coaches or online community. Lastly, speak to your health provider.
7. How to make weight loss programs work for you?
Firstly, choose a program that suits your lifestyle and preferences. Focus on healthy and sustainable eating habits instead of restrictive diets, and prioritize overall health. Try different programs and seek support when you need it.
Summary
It's important to choose a weight loss program that suits your goals, lifestyle, and also your budget. See what other people say about the program, do your own research, and be prepared to make lifestyle changes. Make sure the program promotes overall health and is sustainable for the long term. Lastly, consult your health provider or doctor, especially if you have underlying health conditions, known or unknown, or are taking medications.