Table of Contents
Many people try to lose weight. Some succeed, whereas others fail. The key is finding a healthy diet that suits your needs and one that is enjoyable to follow. Such a diet is more likely to take you beyond temporary restrictions or quick fixes to sustained lifestyle changes. We detail the 10 best weight loss diets together with advice from an expert dietician. Discover which is the best diet to lose weight for you, and start losing weight in the right way.
How to choose the best diet to lose weight
undefinedundefinedundefinedundefinedundefined
Most importantly, a good weight-loss diet should provide sufficient and well-balanced nutrition while promoting overall well-being.
When starting a new diet, make sure it suits your specific health goals and dietary preferences. Also, look for benefits beyond weight loss.
Lastly, if the diet you choose is enjoyable, you'll reach your goals faster!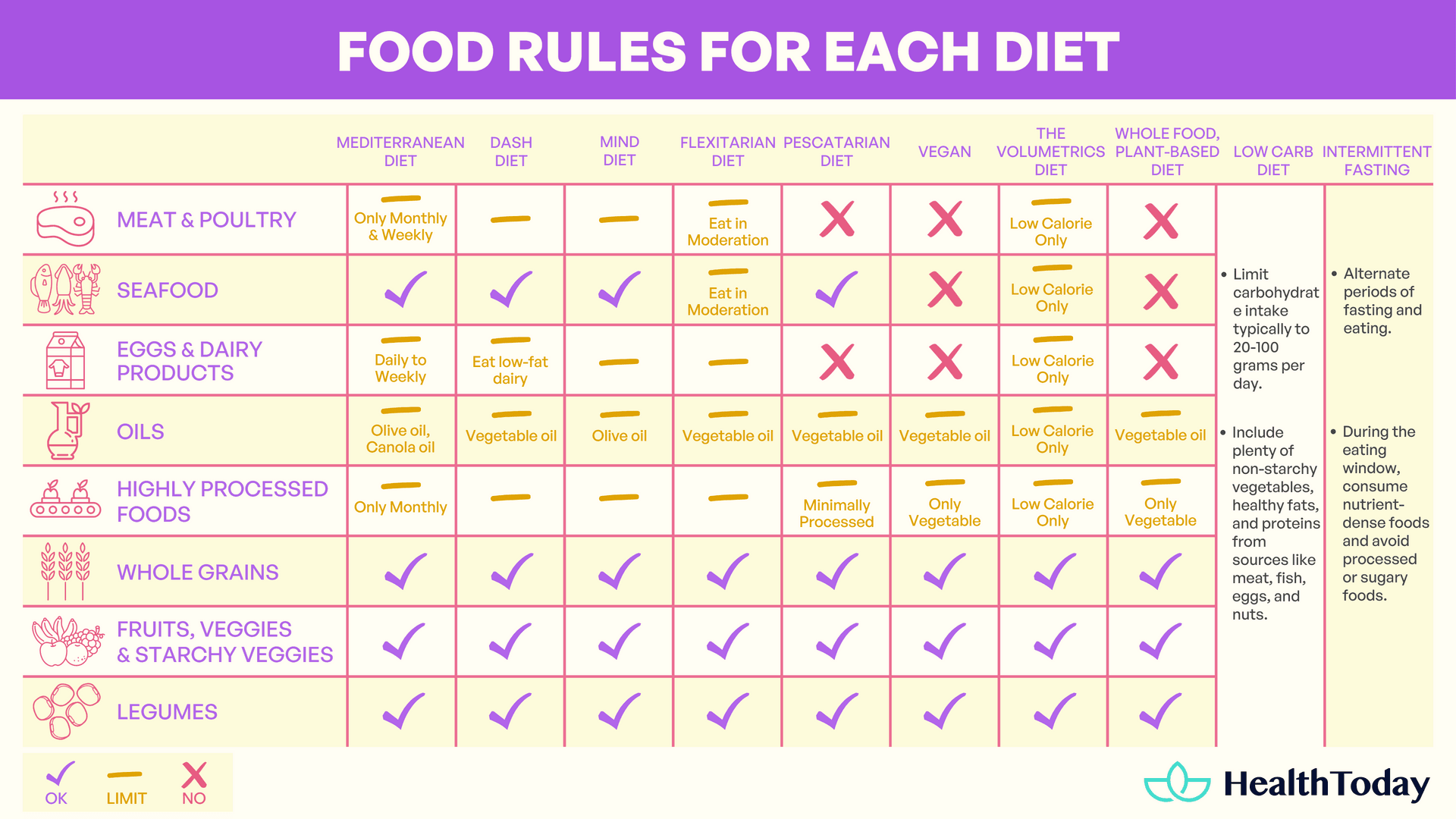 1. Mediterranean diet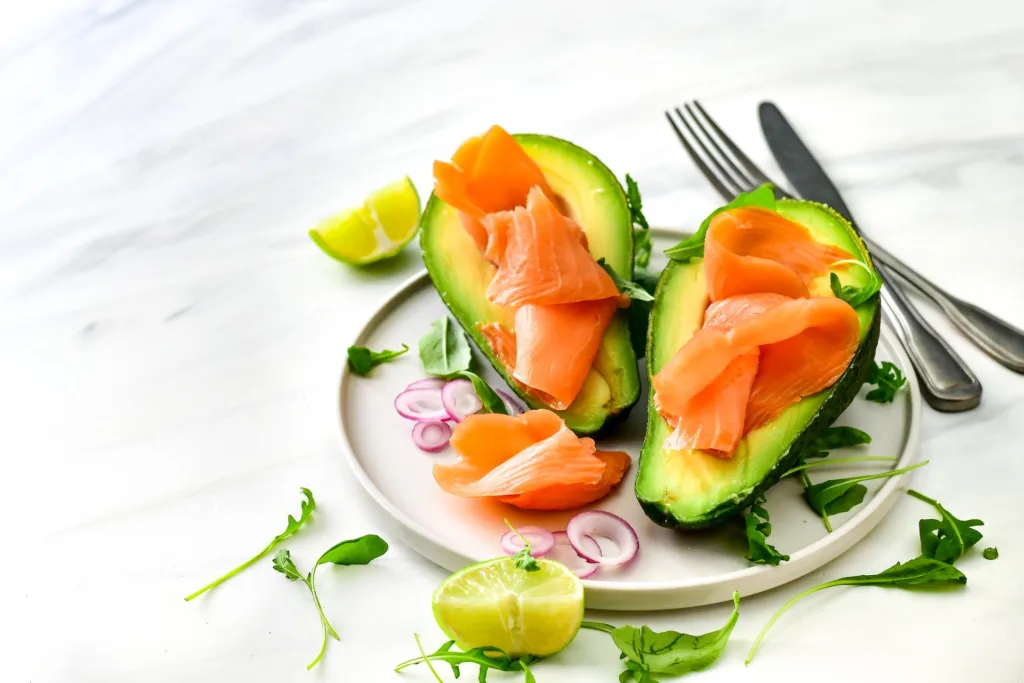 What it's about
The Mediterranean diet focuses on lifestyle changes and consistently ranks as one of the most popular weight loss diets.
Essentially, it's about eating more fruits and vegetables, whole grains, lean protein, and healthy fats. As such, it's diverse, nourishing, and satisfying to follow.
The Mediterranean diet has specific lifestyle features. Sharing food with friends and family is supported for psychological well-being. Additionally, regular exercise is also essential.
How it helps you lose weight
The Mediterranean diet is scientifically proven effective for losing weight. Strictly following the diet can result in twice the likelihood of maintaining weight loss as compared to casual adherence (1).
Olive oil, which is used in many dishes, is rich in omega-9 mono-unsaturated fatty acids (MUFA). Research shows that these MUFA fats are more effective for weight loss than SFA or saturated fatty acids (2, 15).
The diet also helps reduce cardiovascular risk factors in overweight or obese individuals (3, 58).
Basic food guide
Foods to eat:
Plant-based foods include whole grains, legumes, and nuts.
Healthy fats include olive oil, avocado, and fatty fish like salmon.
Moderate portions of lean protein like poultry, fish, and dairy.
Foods to avoid:
Added sugars in drinks and snacks.
Limited intake of red meat.
Highly processed foods.
Other guidelines:
Use herbs and spices to add flavor.
Enjoy social meals when possible.
Eat slowly and mindfully.
A glass of red wine per day.
Downsides
The Mediterranean diet emphasizes healthy fats, which can still be high in calories. Therefore, you need to consume fat in moderation.
The diet also promotes moderate amounts of red wine. However, alcohol consumption should always be with caution, as some research shows even mild alcohol consumption is damaging to one's health, even below recommended guidelines (4).
If you have been advised to avoid alcohol, you should eliminate wine when following the Mediterranean diet.
Dietitian's advice
Combining the Mediterranean diet with the Healthy Eating Plate can be quite effective (8). This means two bites of fruits and vegetables balanced to one bite of carbohydrates and protein.
This method helps to simplify portion control within the Mediterranean diet.
Pros
Numerous supporting studies
Cons
Portion calculations lacking
2. Dash diet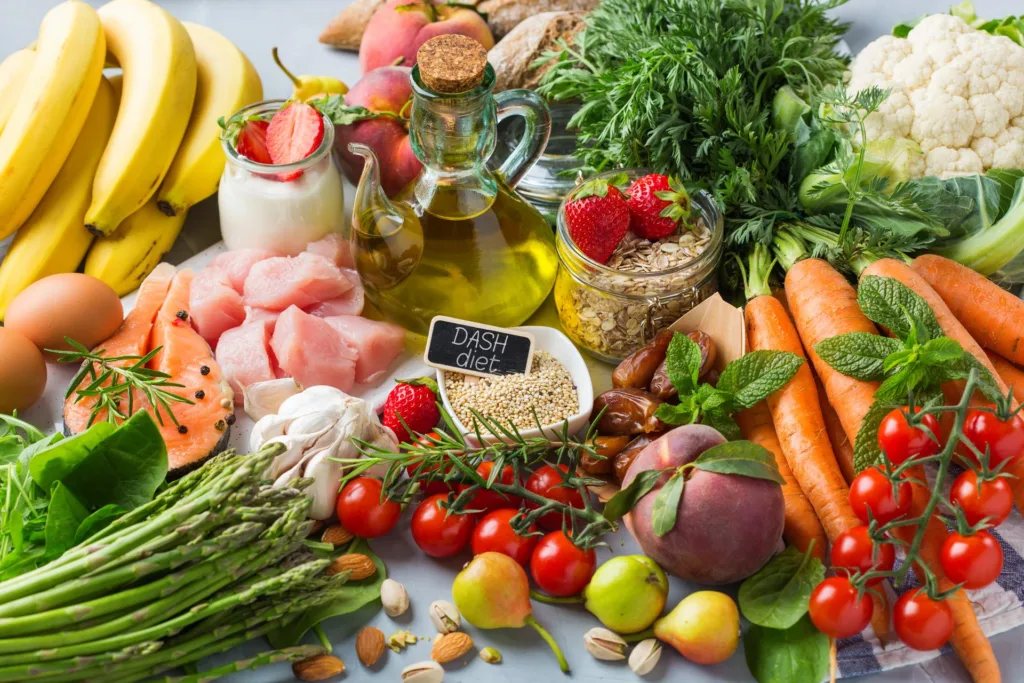 What it's about
The DASH diet was originally designed to stabilize blood pressure. The key foods are vegetables, fruits, whole grains, and lean protein.
It specifically restricts sodium or salt while encouraging low-fat, high-calcium dairy to balance blood pressure.
The DASH diet also has recommended serving sizes. For those used to heavy, oily, or salty foods of the standard American diet (SAD), the Dash diet is tastefully refreshing.
How it helps you lose weight
The DASH diet specifically reduces saturated fats as well as total fat intake. An eight-week study showed greater weight loss and reduced body mass index (BMI) compared to a standard weight-loss control diet in overweight and obese individuals (7).
Another study showed positive results for BMI and waist circumference in prehypertensive patients. Particularly good results were achieved over a 20-week period and when other lifestyle modifications were introduced, such as exercise and limited alcohol consumption (5).
The DASH diet has also proven more successful than a typical low-calorie diet. This was especially so for overweight and obese persons (6).
Basic food guide
Foods to eat:
Fruits, vegetables, whole grains, fish, poultry, beans, seeds, and nuts.
Fat-free or low-fat milk dairy.
Herbs, spices, lemon, lime, vinegar, and salt-free seasoning blends.
Foods to avoid:
Limited sodium or salt.
Processed food and extra seasoning.
Red meat in moderation.
Limited sweets, added sugars, and sugary beverages.
Other guidelines:
Portion control.
Regular physical activity 2.5 hours per week.
Best to avoid food additives.
Restricted baked goods, certain cereals, soy sauce, and some antacids.
Downsides
Sodium or salt restrictions can make sticking to the DASH diet difficult. It limits sodium intake to 2.3 g per day. This is the same as 1 teaspoon of table salt.
Since many natural foods, and especially processed foods, contain sodium, it's difficult to make an accurate assessment. Bread, toast, noodles, and other seemingly innocuous foods can also be high in sodium.
Thus, for the DASH diet, it's best to prepare meals at home. You also need to be careful of extra sodium while snacking between meals.
Dietitian's advice
In order to reduce sodium, try learning how to flavor food with herbs like rosemary and oregano. Other flavorful seasonings are garlic, onion, ginger, chili, and pepper.
Another trick is to use high-umami foods like shiitake mushrooms and tomatoes. However, these changes to reduce sodium should be made gradually rather than suddenly.
Pros
Details on specific foods
Clear indications of portions
Proven extended health benefits
Cons
Sodium restriction challenging
Weight loss is not the primary focus
Challenging for lactose intolerance
3. Mind diet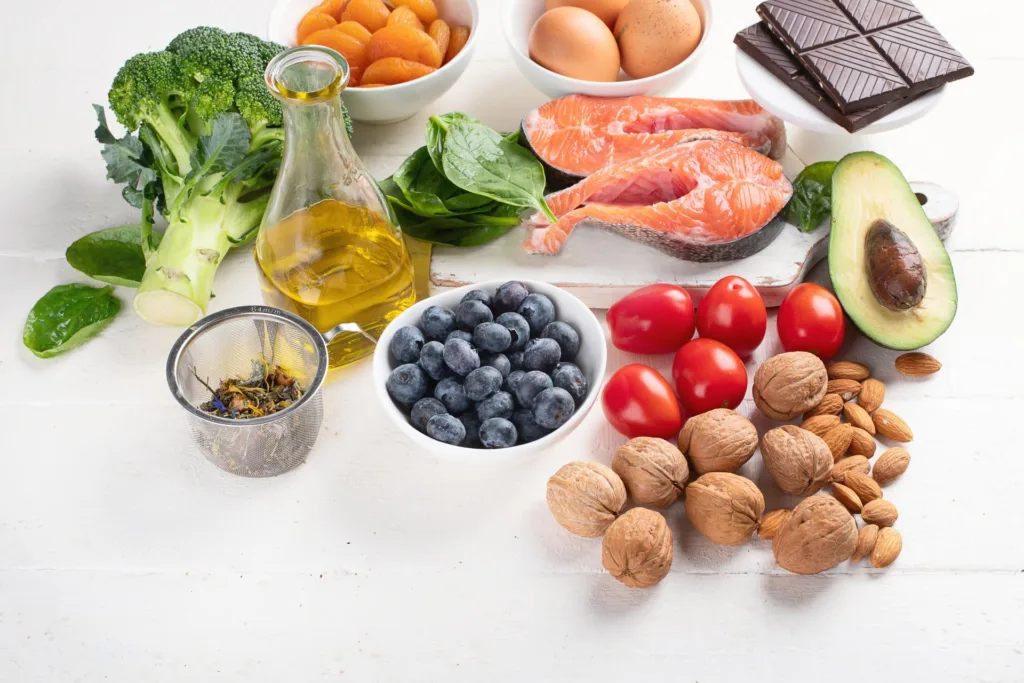 What it's about
The MIND diet is a combination of the Mediterranean and DASH diets. As the name implies, it emphasizes foods good for the brain, such as nuts, seeds, berries, and leafy greens.
A study published by Nature showed how the MIND diet improved cognitive performance, attention, as well as working, and verbal recognition memory (9). The study period was three months.
How it helps you lose weight
The MIND diet has a focus on modest calorie restriction and limiting foods high in saturated fats and sugar. This has been shown to counteract the detrimental effects of obesity on cognition and brain health (9).
A study found that following the MIND diet positively changes lipid levels in the body, like cholesterol. It may thus be able to prevent other chronic illnesses such as obesity (11).
Diets containing foods of the MIND diet have also been associated with a lower risk of childhood overweight and obesity (12). However, as a new weight-loss diet, more studies are needed.
Basic food guide
Foods to eat:
Whole grains like brown rice, quinoa, and whole wheat bread – 3 servings daily.
Green leafy vegetables like spinach, kale, or broccoli – 6 servings a week.
Berries like blueberries and strawberries – 2 servings a week.
Nuts like almonds and walnuts – 5 snack servings per week.
Beans and legumes such as lentils – 4 times per week.
Fatty fish like salmon, tuna, and sardines – once per week.
Poultry like chicken or turkey – twice per week.
Olive oil – primary oil for cooking and dressings.
Have a glass of wine per day.
Foods to avoid:
Red meat and derived products are less than 4 servings per week.
Use minimal butter and margarine.
Restrict cheese and other high-fat dairy products.
Avoid fried and fast foods high in calories and unhealthy fats.
Limited pastries, sweets, and other sugary treats.
Downsides
The MIND diet can include wine in moderation due to a positive association with cognitive health (13, 62). In later MIND trials, wine was removed for broader safety reasons (14).
Dietitian's advice
The effect of alcohol is complex. Depending on personal and family history, it can present different benefits and risks (17). Ultimately, whether or not to include alcohol in your diet is best discussed with your healthcare provider.
Pros
Combination of two effective diets
Good for cognitive-related diseases
Specific food categories
Cons
Further research needed
Contradictory guide on alcohol
Not focused on weight loss
4. Vegan diet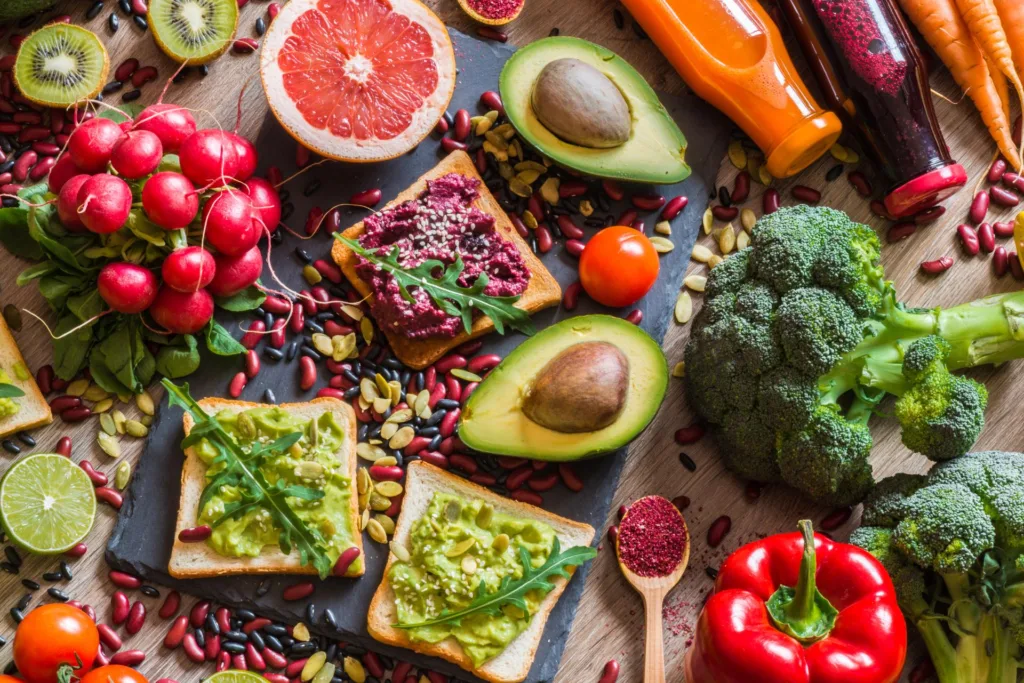 What it's about
A vegan diet is a type of vegetarian diet that excludes all animal products. This includes meat, poultry, seafood, dairy, eggs, as well as honey and gelatin.
Many people go vegan because of concerns over animal welfare and the environment. The diet is recognized as an environmentally-friendly choice for greenhouse gas emissions, deforestation, and water pollution (61).
There are also religious reasons behind veganism, as in Jainism or some schools of Buddhism. The rationale behind adopting a vegan diet is, therefore, multifaceted.
How it helps you lose weight
A plant-based diet is high in fiber, chlorogenic acids, antioxidants, and vegetable proteins. They induce satiety and modulate gut microbiota, inflammatory conditions, and oxidative stress (16).
Research showed that following a vegan diet resulted in decreased BMI, waist-hip circumference, and fat mass (15). Moreover, a vegan diet is connected with better body composition for middle-aged and elderly (18).
Basic food guide
Foods to eat:
All fruits.
All vegetables.
Legumes and beans.
Whole grains.
Nuts and seeds.
Plant-based milks and oils.
Plant-based high protein sources like tofu, Tempe, and seitan.
Foods to avoid:
Meat, poultry, seafood.
Dairy products and eggs.
Animal-derived products like honey and gelatin.
Downsides
A vegan diet can cause nutrient deficiencies if not well-balanced. These deficiencies can include proteins, omega-3 fatty acids, iron, vitamin D, zinc, and especially vitamin B12 (63, 19).
Sticking to a vegan diet can be difficult in some social and cultural contexts. Likewise, overcoming cravings for non-vegan foods can be challenging for some.
Dietitian's advice
Before adopting a vegan diet, it is best to consult a healthcare professional to assess your health condition. If you are pregnant or breastfeeding, you will need to ensure sufficient vitamin and mineral intake.
If necessary, include food supplements, especially fortified foods, that can bolster any nutritional deficiencies.
Step-by-step is the best approach to becoming vegan. Replace one non-plant category at a time, such as meat with tofu or butter with vegetable oil. This makes sticking to the diet easier and more sustainable.
Pros
Reduces saturated fats and cholesterol
Effective with balanced food intake
Recognized health benefits
Ethical and environmentally sustainable
Cons
Requires careful planning
Potential for nutrient deficiencies
Limited food choices
May inhibit socializing
5. Pescatarian diet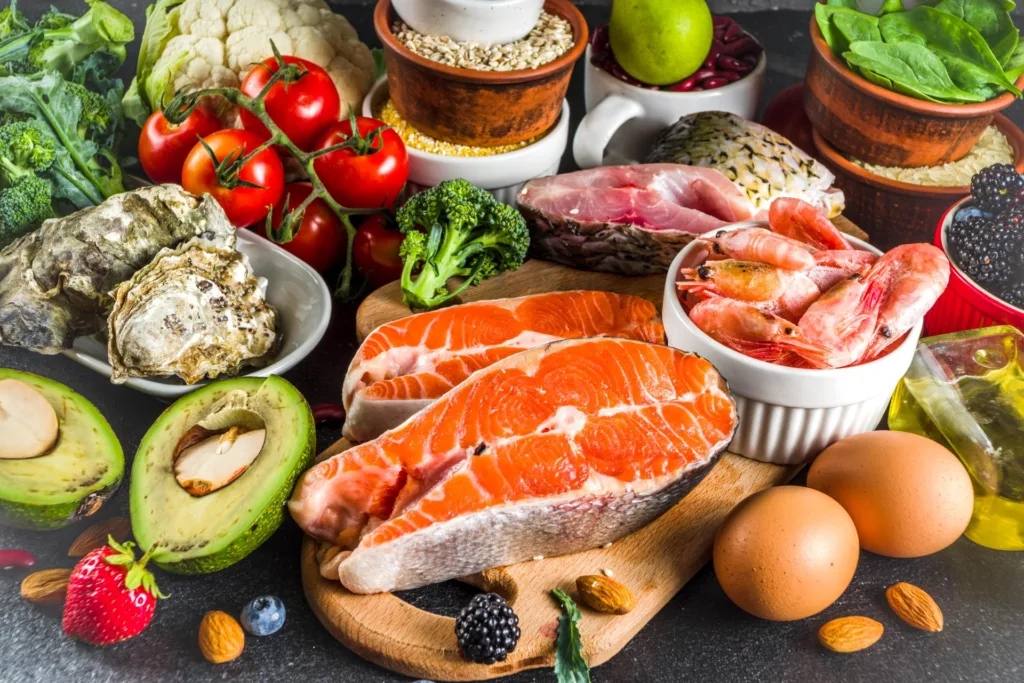 What it's about
The pescatarian diet is like a vegetarian diet but with added fish. It combines the benefits of a plant-based diet with the added nutritional benefits of seafood, such as zinc and vitamin B12 (23).
Some people choose to follow a pescatarian diet as a stepping stone to becoming fully vegetarian. Others believe that combining plant-based foods and seafood offers the best of both worlds.
Moderate consumption of seafood can provide important nutrients such as omega-3 fatty acids, including DHA and EPA. These can counteract inflammation and promote cardiovascular health (20).
How it helps you lose weight
Following a pescatarian diet has been shown to be associated with a lower BMI as compared to non-vegetarians (21).
Higher levels of omega-3 fatty acids in the blood might protect against obesity, especially in an energy-restricted diet or with exercise. They also suppress appetite and improve the circulation of nutrients to skeletal muscle (22).
Omega-3 fatty acids can also change gene expression. This can promote lean tissue growth, enhanced fat burning, increased energy output, and reduced fat storage (22, 24). However, more research is needed (25).
Basic food guide
Foods to eat:
All fruits.
All vegetables.
Legumes and beans.
Whole grains.
Nuts and seeds.
Plant-based milks.
Fish, seafood, shellfish.
Foods to avoid:
Meat, poultry, dairy products, eggs.
Downsides
Eating fish and seafood may not be practical due to their high levels of mercury and other pollutants (59). Additionally, there are environmental and sustainability concerns to consider.
Overfishing and overconsumption have both contributed to catastrophic decreases in wild fish populations. Around 35.4%% of the world's fisheries are overfished and unsustainable, or the percentage of sustainable fishing is rapidly declining (26, 27).
It's important to remember that a pescatarian diet is centered around plant-based foods with occasional seafood. It does not require eating fish three times a day.
Dietitian's advice
Several studies have shown the benefits of eating fish outweigh the risks associated with mercury. Try to avoid larger, more predatory fish, which generally have higher mercury levels (60, 28).
Fish low on the food chain include salmon, anchovies, herring, sardines, Pacific oysters, trout, and Atlantic or Pacific mackerel. These are high-quality, safe sources that prioritize sustainable fisheries (32).
The Dietary Guidelines for Americans recommend consuming 8 ounces or more of seafood per week (29). However, mercury poses the greatest risk to children, pregnant women, and breastfeeding mothers (30).
Therefore, these groups should limit albacore tuna intake to 6 ounces per week and avoid tilefish, swordfish, shark, and mackerel (31).
Pros
Plant-based health benefits
Easier to meet protein needs
Potential cardiovascular benefits
Cons
Environmental sustainability concerns
Contaminants in big fish
6. Flexitarian diet
What it's about
Flexitarians primarily eat plant-based foods with occasional meat. Meat would be humanely raised, such as grass-fed beef or free-range poultry. The diet is flexible and personalized, but there is no defined meat portioning.
The Flexitarian diet makes it easier to avoid nutrient deficiencies such as vitamin B12, zinc, and iron which may be found in a vegetarian or vegan diet. It's a great option for people who want to add more plant-based foods to their diet.
How it helps you lose weight
Including more plant-based foods can increase fiber intake, support regular bowel movements, and nourish beneficial bacteria in the gut (33). These are all factors in a weight-loss diet.
A nutrient-rich plant-based plan can also help reduce food cravings and improve satiety (34).
Moreover, the Flexitarian diet is linked to decreased overall mortality. It shows strong evidence for weight loss and improved metabolic health, such as lower diabetes risk and blood pressure (35).
Basic food guide
Foods to eat:
Mostly plant-based foods.
Legumes and whole grains.
Nuts and seeds.
Plant-based milks and oils.
Occasional meat, fish, or poultry.
Foods to avoid:
High intake of animal products.
Limited types of animal fats.
Downsides
The Flexitarian diet does not have specific portion or calorie control guidelines. Furthermore, simply being plant-based does not guarantee a healthy diet. Food could be highly processed, high in sodium and sugar, or contain artificial additives.
Dietitian's advice
Besides implementing more whole foods into your diet, you should learn to pay attention to food labels. This way, you can avoid potentially harmful ingredients.
When reading labels, pay attention to serving size, calories, and nutrient content like fiber, protein, and vitamins.
Look for foods that are low in added sugars, sodium or salt, saturated fats, and trans fats. Be cautious of 'health claims' on the label, as they may be misleading or exaggerated.
Pros
Flexible
Reduced meat consumption
Sufficient nutrients
Cons
Potential for eating too much
Requires mindful choices
Few guidelines
7. Whole-food plant-based diet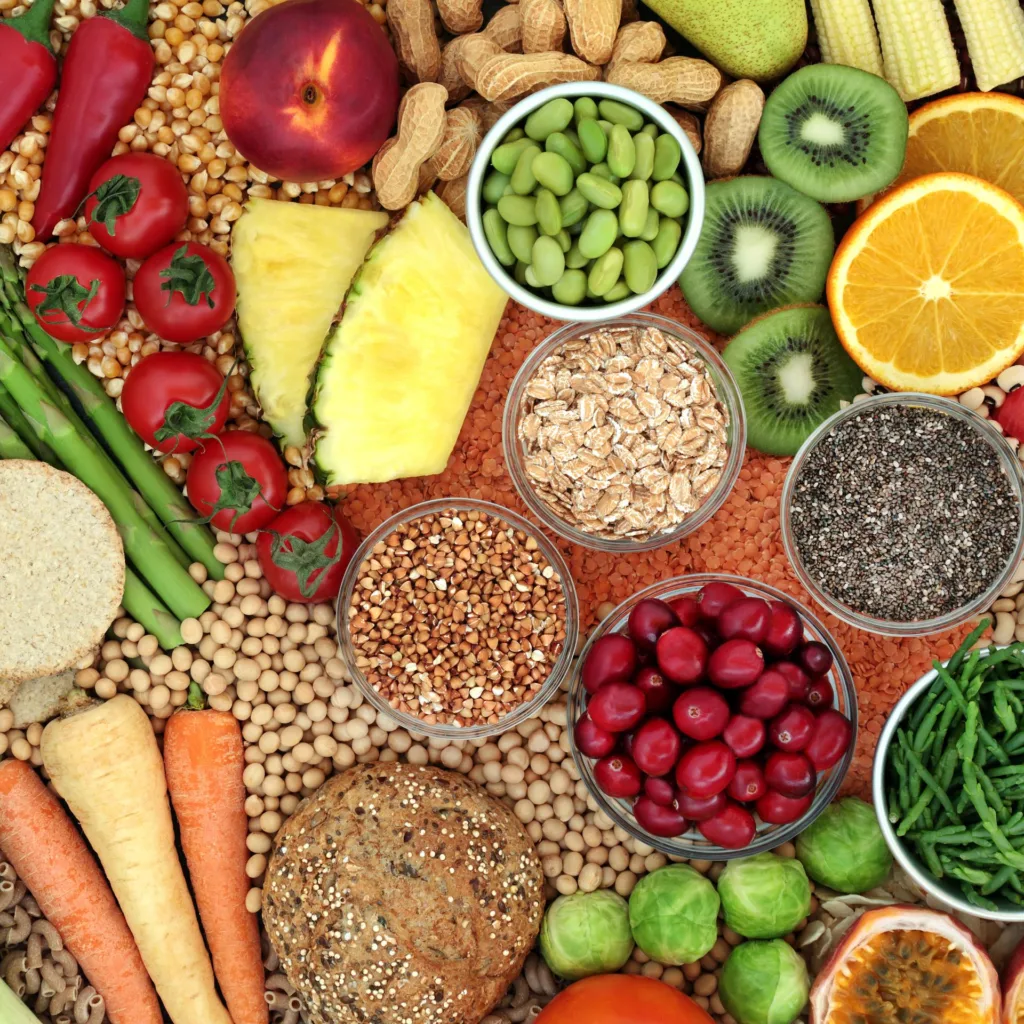 What it's about
The wholefood plant-based diet is similar to a flexitarian diet but with a stronger emphasis on minimizing processed foods. It emphasizes whole or lightly processed foods.
For example, typical vegetable oil is not recommended. Instead, lightly processed avocado or coconut oils are used.
The diet also limits added sugar and white flour, suggesting substitutes such as agave nectar and wholemeal flour. Highly processed foods tend to have more additives and are less nutritionally dense (36).
How it helps you lose weight
Ultra-processed foods can affect health outcomes, including weight. The convenience, affordability, and persuasive marketing of these foods may contribute to overeating and poor dietary habits (36).
The highly degraded physical structure of ultra-processed foods can adversely affect absorption, satiety, blood glucose, and gut flora. All are factors related to losing weight (36).
Studies have shown that consuming ultra-processed foods can lead to weight gain, while unprocessed foods correlate better to weight loss (39).
Incorporating more plant-based, whole foods into a weight-loss diet can also help you achieve a healthy weight and reduce the risk of chronic diseases (40).
Diets high in ultra-processed foods like fast food, sugary treats, and soda have been associated with an increased risk of disease and a reduced life span (41, 42).
Basic food guide
Foods to eat:
Plant-based foods.
Whole or unprocessed foods.
Foods with minimum added fat.
Animal products included.
Foods to avoid:
Refined grains.
Added sugars.
Processed oils.
Packaged foods.
Highly processed ingredients.
Downsides
The emphasis on whole foods increases fiber content. Increased fiber can cause gastrointestinal discomfort, such as bloating or loose stool, as your body adjusts to the change (43).
Sometimes, rigid adherence to the whole food principle can lead to eating disorders. It may become less of a healthy diet and more of an identity.
Whole-food eating may require more cooking, planning, and preparation of meals.
From the viewpoint of weight loss, a whole-food diet aims to eliminate added sugar, high-fructose corn syrup, preservatives, artificial colors and flavors, and other additives. This can be challenging for some people.
Dietitian's advice
Eating more fiber requires chewing food more thoroughly. When following a whole-food diet, it's important to chew carefully. This will lessen the burden on the stomach and intestines.
Occasionally, choosing lightly processed foods can be easier and less time-consuming to prepare. It can also reduce cooking stress.
The flexibility of the diet allows you to enjoy your favorite snack foods or treats occasionally. This can help sustain greater weight loss over time.
Pros
Emphasis on wholefoods
Better nutrition includes fiber
Minimal intake of food additives
Increased health benefits
Cons
Meal preparation time
Impact on dining out options
Issues with sudden fiber loading
8. Intermittent fasting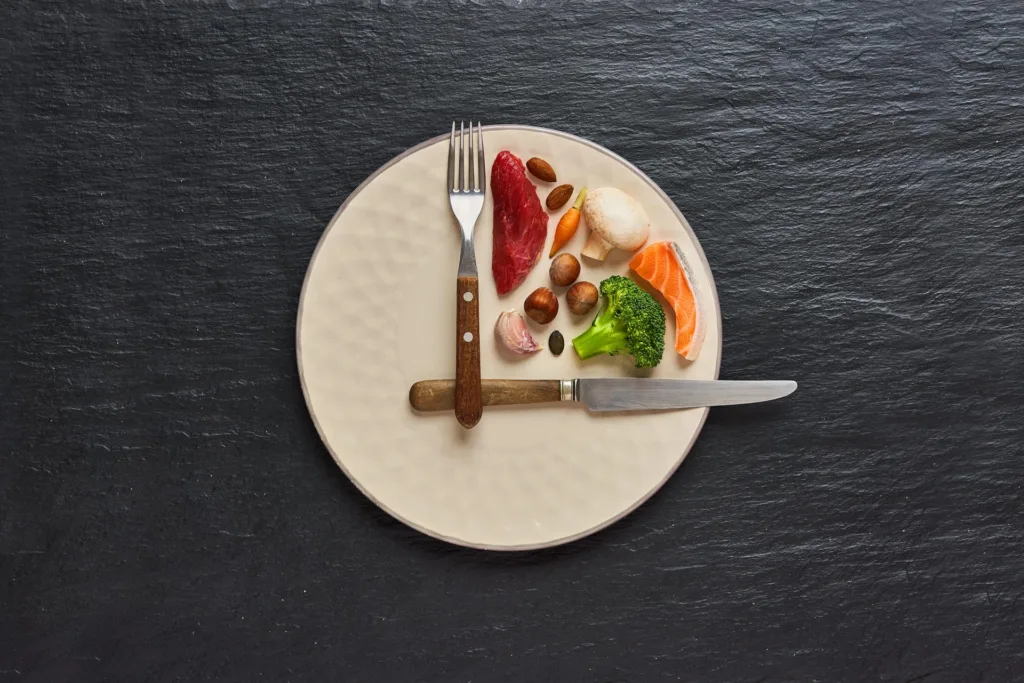 What it's about
In recent years, intermittent fasting has become a popular diet regime and lifestyle. In simple terms, it involves lengthening your non-eating period and reducing the number of meal times. This means a net reduction in calories.
There are various forms of intermittent fasting. The most widely used are the 16/8 and 5 / 2 methods.
The 16 / 8 method involves eating only within an 8-hour window and fasting for the remaining 16 hours.
The 5 / 2 method consists of eating normally for 5 days a week and restricting calorie intake to 500‒600 calories on two non-consecutive days.
How it helps you lose weight
Intermittent fasting targets metabolic advantage over the long term. Consistent calorie restriction has proven to be an effective weight-loss strategy.
The 16 / 8 can be effective in women over 60 years of age. Results range from 2.5% to even 9.9% weight reduction (44).
Two studies of 100 overweight women were assigned either a 5 / 2 intermittent fasting program or a 25% decrease in daily calories. The 5 / 2 intermittent fasting group showed greater improvement in insulin sensitivity and a larger decrease in waist size (45, 46).
Preclinical investigations and clinical trials show various benefits to intermittent fasting. These include helping with obesity, diabetes, cardiovascular disease, cancer, and neurologic diseases (47).
However, studies on intermittent fasting have mostly focused on overweight individuals between the ages of 20 and 50. It is unclear if the benefits and safety of this approach apply to other age groups (47).
Basic food guide
There are no specific foods to eat or to avoid. However, it's crucial to prioritize nutritious, whole foods and maintain a balanced diet during the eating periods to support overall health and well-being.
During the fasting periods, it's generally recommended to drink water, unsweetened tea, or black coffee.
16 / 8 time-restricted eating method: Eat during an 8-hour window and fast for the remaining 16 hours of the day.
5 / 2 method: Eat normally for five days of the week. Restrict calorie intake to 500‒600 calories for two non-consecutive days and repeat the cycle.
Downsides
Intermittent fasting can be an effective weight-loss diet strategy. However, extended fasting periods may cause feelings of hunger and discomfort. Moreover, there is a possibility of malnourishment during the non-eating window.
Fasting periods can also affect energy levels and physical performance. Individuals with a history of disordered eating or certain medical conditions should seek professional advice. .
Dietitian's advice
When approaching intermittent fasting, it's essential to maintain a healthy mindset and seek guidance if necessary.
To determine if the diet is suitable for you, pay attention to your body. If you find fasting periods too challenging and uncomfortable, that may be a sign this weight-loss diet is not for you.
A useful tip is to eat earlier in the day rather than late at night. So, if you want to try the 16 / 8 method, it's better to skip dinner instead of breakfast for weight-loss enhancement (48, 49).
Pros
May help improve insulin sensitivity
Relatively simple to follow
Cons
Hunger and discomfort
Fasting requires discipline
May interfere with socializing
Difficult to maintain long-term
9. Low-carb diet
What it's about
A low-carb diet restricts carbohydrates, typically 20 to 100 grams per day. The body is forced to burn stored fat for energy, which can lead to weight loss.
Low-carb diets typically emphasize protein-rich foods such as meats, seafood, and eggs, along with non-starchy vegetables and certain fruits. Grains, bread, pasta, sugar, milk, and some fruits are usually restricted or eliminated from the diet.
There are many different types of low-carb diets. There are the Atkins Diet, ketogenic, and paleo diets to name the most popular.
Macronutrient ratios and food choices may vary between low-carb diets, but they share the common goal of reducing carbohydrate intake.
How it helps you lose weight
Increased protein consumption has been linked to increased satiation in relation to weight loss (50).
Even without strict calories, progressively increasing protein and eliminating high-glycemic foods can help with weight loss and weight management (51).
Obese people who followed the low-carb diet for 12 weeks dropped an average of 11 pounds and 2 inches from their waistlines. Participants had significant reductions in fasting insulin and an elevation in the fullness hormone (52).
Basic food guide
Foods to eat:
Non-starchy vegetables – leafy greens, broccoli, cauliflower, etc.
Protein – meat, fish, seafood, eggs.
Healthy fats – avocados, nuts, seeds, olive oil, coconut oil.
Dairy products – cheese, butter, Greek yogurt, cream.
Low-sugar fruits – strawberries, blueberries, raspberries (in moderation).
Low carb sweeteners – stevia, erythritol, monk fruit.
Herbs, spices, and seasonings.
Foods to avoid:
High-carb foods – bread, pasta, rice, potatoes, grains, and cereals.
Processed foods made with flour or refined grains.
Sugary foods and beverages – soda, fruit juices, candy, and desserts.
Sugary fruits – bananas, grapes, pineapples, and others
Starchy legumes – lentils and chickpeas.
High-carb sauces and condiments – ketchup, BBQ sauce, sweetened dressings.
Some alcoholic beverages – beer, sweetened cocktails, and high-sugar mixers.
Downsides
Some individuals may experience initial side effects like fatigue, dizziness, or constipation when transitioning to a low-carb diet.
A low-carb diet may negatively impact sports or physical performance due to reduced glycogen stores and limited carbohydrates.
Dietitian's advice
If you choose to follow a low-carb weight-loss diet, consider carefully your choice of fats and proteins. Limit foods that contain saturated fat and trans fats. These may increase the risk of heart disease.
A low-carb diet can be either healthy or unhealthy, depending on your food choices. Unhealthy choices have been associated with undesirable effects (37, 38, 53).
It's important, therefore, to consider food and nutrient quality. More long-term effects of these diets are needed.
Pros
May reduce food cravings
Can increase satiety
Improved blood sugar
Better cholesterol control
Cons
Initial fatigue, dizziness, or constipation
May require planning
Can affect social eating
May affect athletic performance
10. Volumetric diet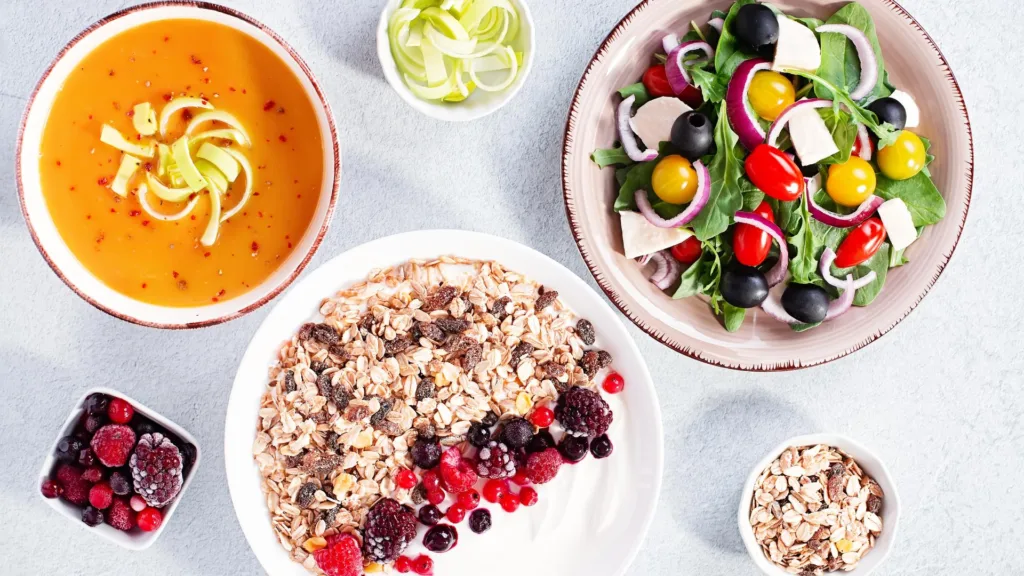 What it's about
The Volumetrics diet promotes satiety by focusing on low-calorie, high-volume foods like fruits, vegetables, and lean protein. It was designed for people who struggle with hunger when trying to lose weight.
This weight-loss diet relies on the idea that people eat the same volume of food regardless of the calorie count. By eating foods that are low in calories but high in volume, people can feel full with fewer calories.
It emphasizes high-water, high-fiber, and nutrient-dense foods. Instead of strict calorie counting, the Volumetrics diet relies on paying attention to hunger and fullness cues. It is sustainable and allows for moderation in food choices.
How it helps you lose weight
In a year-long research study, participants who chose low-energy-dense foods while reducing fat lost more weight than simply reducing fat intake alone (54).
Reducing food consumption is often challenging and can lead to feelings of hunger. Therefore, modifying energy density in a diet is a proven technique (55, 56).
Eating substantial portions of low-energy-dense meals is a useful method for enhancing satiety and reducing hunger (57).
Basic food guide
Foods to eat:
Non-starchy vegetables.
Fruits in moderation.
Whole grains.
Lean proteins (skinless poultry, fish, tofu, legumes).
Low-fat dairy or dairy alternatives.
Low energy density food.
Foods high in fiber.
Foods with high water content.
Foods to avoid:
Highly processed grains.
High-fat meats.
Full-fat dairy products.
Added sugars, dense desserts, and sugary beverages.
Fried foods.
High-fat snacks, processed snacks.
Other notes:
Practice mindful eating.
Stay hydrated.
Downsides
Healthy but high-calorie foods like dark chocolate, almonds, avocados, and oily fish are often left out.
Meanwhile, processed low-calorie foods such as fat-free snack products are permitted, even though not the best choice.
Dietitian's advice
A cup of cooked spinach contains only 50 calories, whereas a cup of ice cream contains 500 calories. Even though they may provide similar feelings of satiety, the calorie intake is vastly different.
This is the magic behind understanding the Volumetrics diet.
Fresh tomatoes as a sauce base are better than cream. Mushrooms can replace some meat or add beans and chopped vegetables to your rice. These simple tips can make your meals more satisfying without adding excessive calories.
Pros
Improved satiety
Good water intake via food
Not restrictive of food groups
Cons
The learning curve for appropriate foods
Processed but low-calorie foods allowed
High-calorie but beneficial foods neglected
Summary
A good weight-loss diet should provide sufficient nutrients while supporting overall well-being. Just as important are additional benefits beyond weight loss. Find a sustainable diet that suits your preferences and needs. Lastly, choose a healthy diet that will work best for you and one that you will enjoy.